Just when most of us were still exploiting the affluent messaging capabilities of BlackBerry models, Research In Motions removed the sleek sheath of their new BlackBerry Curve 8520 smartphone. Designed with incredible aesthetics and sublime functionality, the promising toddler from the company's rich clan zeroes in on infusing great business features for professionals out there. Though the much-needed 3G capability goes missing, the handset does manage to earn extra points for its excellent messaging functions and notable design. Belonging to BlackBerry's well-appreciated Curve family, the quad-band GSM mobile device not only enables users to strike a balance between their personal and professional lives, but also lets them have a fun element (just when they need it). Nevertheless, if you ask us to prepare a synopsis, an awesome smartphone with so much to explore is what we would roll out as a perfect reply.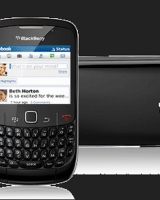 Performance
With an efficient 512MHz processor doing its job inside the framework, we were literally swayed away for what it offers. We must say the device responds really quickly to the inputs and moves along pretty effortlessly. In evident terms, we didn't really find any performance lags but that again cannot be compared with other high end variants buzzing the market these days. The 256MB of internal memory proffers minimal space, which some users might grumble about. However, BlackBerry has somewhere filled the bill by attaching a microSD slot across the surface.
As an entry level phone, the Curve 8520 delivers a great performance and doesn't really make anyone arch shoulders. We found the integrated connectivity as reasonable while no support for 3G/HSDPA made us take a step back. Besides this, the company missed on GPS as well, probably to keep the price point a little down.
Features
Powered by BlackBerry 5.0 operating system, Curve 8520 comes equipped with a 2.46" TFT display which provides decent resolution standard of 320 x 240p and support for 65K colors. Although the embedded display pulls off well in allowing users to watch their content with utmost clarity, we still cannot place the device just next to those who have been prancing with huge, super responsive touchscreen displays. And for the very obvious reasons, as you may know. Nonetheless, the consumer-based smartphone catches most of the attention for its quick and intuitive touch-sensitive optical trackpad. So, whether you want to scroll something lickety-split or just want to click your favorite moments, the smooth trackpad enables things to run pretty efficiently. Users may even appreciate the decently placed 2 megapixel camera that offers resolution of 1600 x 1200p. But, stay notified as there's no secondary camera.
The Java-enabled phone uplifts the experience with its neat QWERTY keyboard that lets users quickly type in their messages or long e-mails. At the same time, there's 256MB of internal memory which can be aggrandized up to 32GB with a microSD card. The Curve 8520, however, can practically keep a limitless number of fields and entries, which certainly is a plus point for many out there. Though BlackBerry has incorporated mostly business-oriented features under the hood, the unit performs a pretty good balancing act by planking down some entertainment features too. So, what do we get there? Well, a music player that can play multiple formats and several exciting gaming titles. Not to forget by, there are some other highlights as well which include dedicated music keys, 3.5mm jack, GPRS, Bluetooth v2.0 with A2DP, USB, Wi-Fi, and up to 4 hours and 30 minutes of talk-time and up to 408 hours of standby time.
Design
In terms of how Blackberry sketched out the model, Curve 8520 brings in a couple of new tricks to the table. Now, what's that? To get down to brass tacks, the smartphone features an interesting chassis with somewhat lighter and sleeker dimensions than the stylish BlackBerry Curve 8900. Enclosed in a body that nowhere weighs more than 106g, the device is indeed trendy and beautifully combines smooth edges with soft curves. Although some might feel the fabrication to be slightly plasticky, the 8520 however does strike the right chords as far as boosting the style factor punches the clock. The lightweight model (which sits comfortably inside the volume of 109mm x 60mm x 13.9 mm) features a soft-touch finish along the outside rears to fend off the handset from feeling too slick.
Otherwise, it scores good points for how it looks. But if you are expecting this one to be of the same high resolution and amalgamation of Curve 8900, then disappointment is what will continue to pour in. Though quite simplistic on the whole, the QWERTY smartphone yet allows users to indulge in a rich, exciting experience.
Bottomline
On the whole, BlackBerry Curve 8520 is a good smartphone to hang out with, without really digging a hole in your pocket. Priced around Rs. 8,547, the device offers a decent set of functions and a great style factor. But, the absence of certain features definitely leaves a scope for BlackBerry to look up and improve further. However, right from staying connected to managing professional tasks with efficiency, the model takes care of just about everything despite being an entry-level handset.