Bitdefender is probably the best antivirus software  for your mobile available in the market today; this is mostly because it is one of the few security systems that offers the best protection from threats, while also helping you save battery power in the process. It can be installed on your tablet as well.
Bitdefender Mobile Security  relies on  award winning protection technology, having recently received the vote of confidence from PC Mag for the second year in a row. The app is very fast and works through a cloud system that is updated every twenty four hours. This makes Bitdefender the strongest security system for your mobile phone, protecting from a range of online and offline threats, including malware, loss or even theft.  Yet is surprisingly light so you won't experience any lagging, even on an older smartphone.
Features:
Bitdefender features a parental control and a malware scanner that has been tested to pick out all kinds of malware. The privacy advisor shows how apps access your information and you can change it here as well. The web security feature protects you device while you are browsing using any browser and the anti theft installs a Web dashboard that enables you to send SMS commands, track, lock and even wipe your smart phone using any device with an internet connection.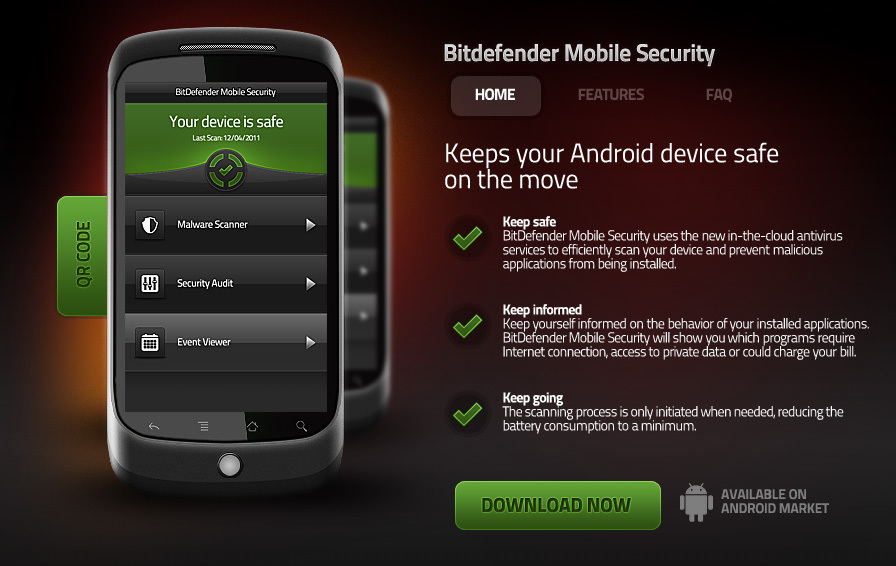 Pros:
It features a number of specifications that do more then just protect your devices from viruses and electronic threats; it also prevents privacy "intruders from accessing your information and other details and you can also use it to prevent apps from accessing your information too. You can easily download the 14 day trial version and buy the full software for just $9.95 a year. It not only protects you from viruses but also additional kinds of attacks through the internet, the biggest benefit is that you can access your phone and control it through another device that has an internet connection. The Anti Theft features an alarm that can be activated though the Web dashboard
Cons:
The remote Wipe Device requires additional permissions before you can use this feature to access your private data and the Web Security function currently works only on Chrome and with the default Android browser that is installed on your device. The Automatic Answer feature does not work on the Android 4.1, even though the SMS control feature works just fine. If you are using a device with Android 4.1 on it, then you will have to disable the Device Admin manually or log out completely before you can uninstall Bitdefender.