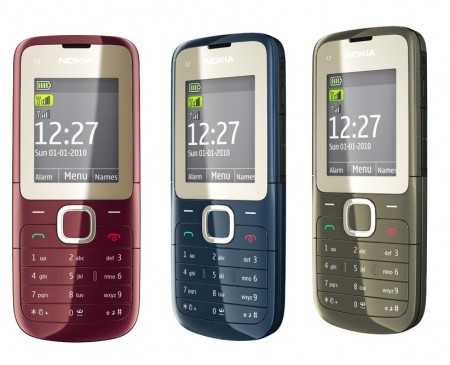 A dual SIM cellphone is one which can hold two SIM cards. It gives the performance of two cellphones in one handset. A dual SIM cellphone automatically switches SIM cards and doesn't need any manual work. The main advantages of keeping a dual SIM cellphone is, it helps to separate personal and professional phone calls using different calling plans to get the cheapest rates. The personal and the professional contacts can be stored separately. It also helps us while traveling by accessing different coverage areas.
Nokia C2-00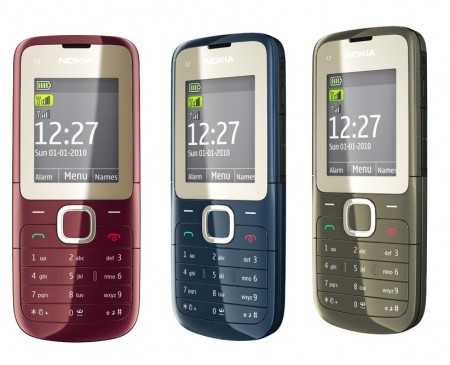 Nokia C2-00 provides an internal as well as an external SIM card slot. The external SIM card slot lies in one side of the phone. This makes it easier to swap between different SIM cards. You don't need to take out the back cover and the battery to use a different SIM card. This is the main attraction of Nokia C2-00. It has a decent music player, VGA camera and it supports a Bluetooth A2DP profile.
Nokia 101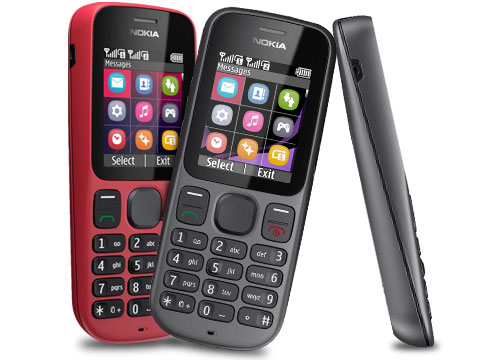 Apart from being a dual SIM phone, it is also called as a Music Phone. It allows people to enjoy Music and get whatever they want to listen through FM stations. The phone can filter music by play lists. An additional micro SD memory card up to 16GB can be added to the phone. The battery lasts for more than 5 hours and a stand-by time of more than 400 hours.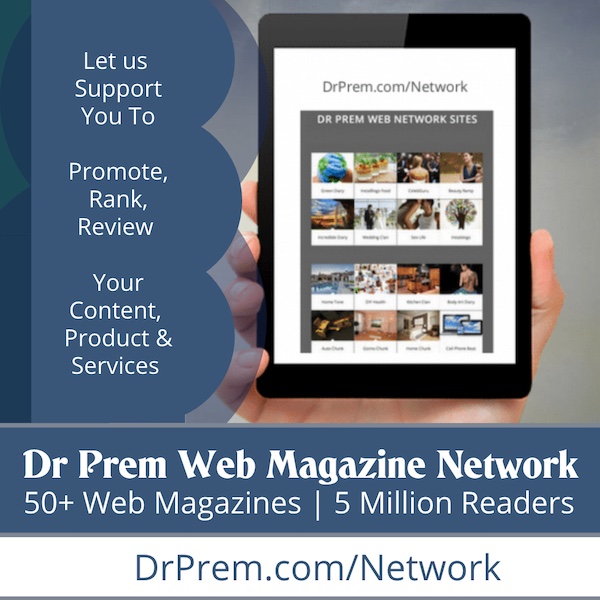 Nokia X1-01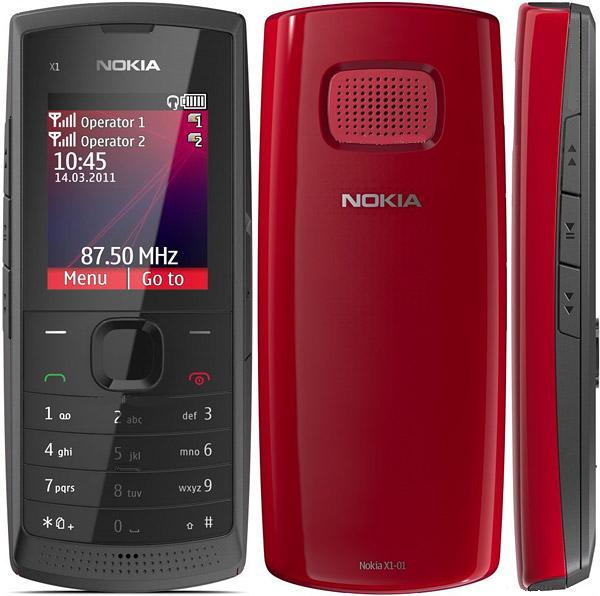 Nokia X1-01 is one of the cheapest dual SIM cellphones. It's main attraction is built in music player which can play MP3 files. It comes with FM radio too. It claims that it can play music for almost 36 long hours on a single charge. It also has the option of personalizing the SIM cards with different names.
Samsung E1252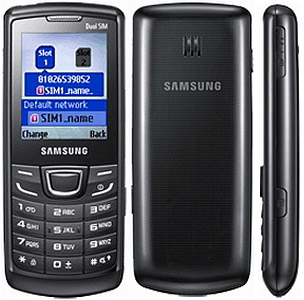 Samsung E1252 features powerful LED torchlight, high-quality speakers and FM radio. It even provides auto scan functions.The handset comes with powerful 17 pi speaker which delivers high-clarity stereo sound. People experience an incredible sound quality while using this phone.Its 17mm speaker gives clear and loud sound.
Samsung E2152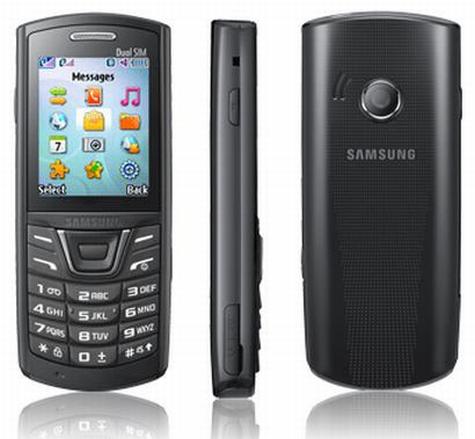 Samsung E2152 comes with a good number of features. It helps us to connect with internet world and direct access to social networking sites like Facebook, Twitter and many more. It has a VGA standard camera, GPRS for connectivity, music player, FM, USB port and Bluetooth.It also has a long battery life. E2152 is also known as Samsung Guru Dual 36.
Samsung Hero E2232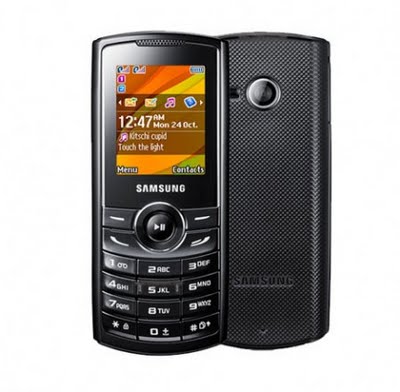 Samsung Hero E2232 comes with a durable design. It helps us to access music at our finger tip. It's a GPRS enabled phone. With this phone, we can stay connected with our friends 24×7 through SMS and MMS. With all the basic features, it also comes with Bluetooth and WAP. It is a simple yet very elegant device.
Karbonn K9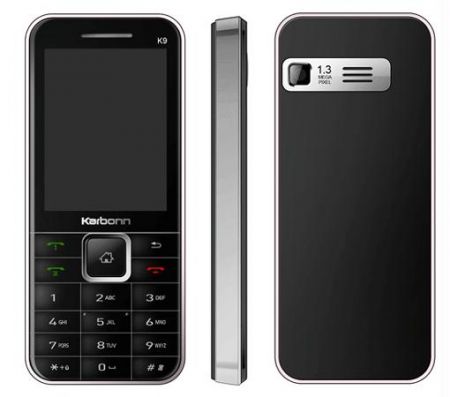 Karbonn K9 is an affordable Dual SIM GSM mobile phone featuring long battery backup. It provides a 1.3 MP camera and video recording facilities. It has GPRS, Bluetooth and USB connectivity. The backlit alphanumeric keypad helps in fast texting. It features conference call options which allows us to have group conversations.
Micromax M2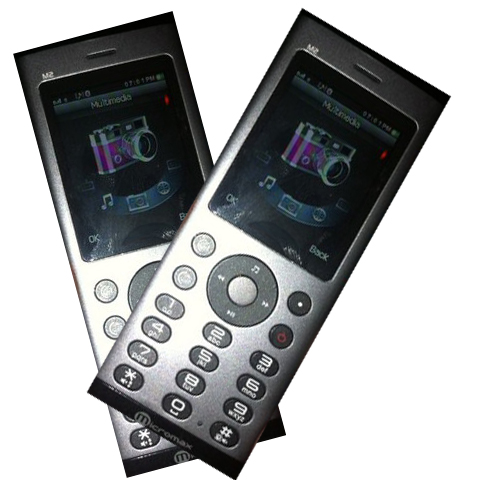 Micromax M2 is known as a music phone. But it does not fully justifify this tag due to its limited 2G internal memory. It doesn't even support expandable memory. It comes with an inbuilt Yamaha audio amplifier. It can be a good supplement for any music player. Micromax M2 comes with pretty good headphones and good music playing capabilities.
Micromax Q6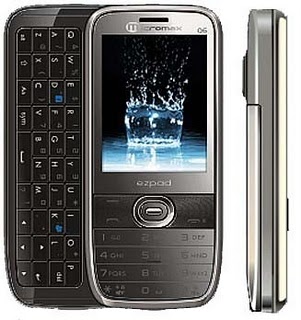 Micromax Q6 looks like a simple bar phone in first look but when you slide it, the qwerty keyboard comes out. The qwerty keypad makes usage faster. It features Yamaha amplifiers and inbuilt opera mini browser. Opera mini browser is the prime appealing feature of this handset. It comes with all other features like SMS, MMS, 2 MP camera, Bluetooth, WAP and GPRS. It even supports multi format music player which supports different formats.
Micromax X333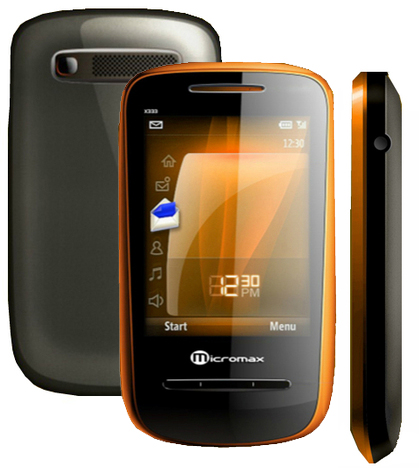 Micromax X333 is a stylish touch phone. It features 2.8″ touchscreen and 0.3MP camera to click pictures with digital zoom. It has a 75 KB inbuilt memory which can be expanded up to 8 GB using microSD card. It has an FM radio with recording and features multiple music video files. It also provides USB port, Bluetooth and GPRS.