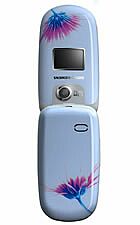 Fairer sex appeals anyone. It might be the reason why most of the cell phones coming to the market now target the feminine community. BenQ and Seimens are following the trend too as they have unveiled the new handset, Mia, for ladies.
Thank God! This one is not pink. Mia boasts 1.3Mpix camera and the saloon features like a small mirror, leather charms and a java application to guide you how to apply make-up.
The stylish girly-girl phone would hit the UK market for $184 on a pay-as-you-go plan.
Via: NewLaunches