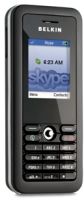 The Belkin have launched a sleek looking Skype handset which will allow the user's unlimited access to the Boingo hotspots worldwide.
The Biongo mobile unlimited account can be had for a rental of $ 7.95 per month and the company has presence in 60 countries with hotspots available in cafes, hotels and airports.
The service is currently available in U.S.A. but soon will be launched in Asia, Europe and Australia.
Via: Gadgetell