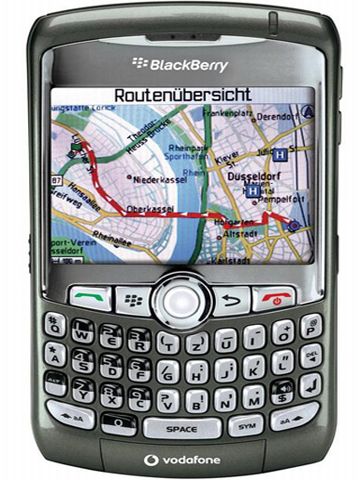 Are you looking for a GPS-enabled BlackBerry smartphone? Then you have an option from AT&T: the RIM BlackBerry Curve 8130 , which comes with 240 display, Bluetooth connection and two megapixel camera.
Released for AT&T, the BlackBerry Curve 8310 comes with in-built GPS to take advantage of location-based services like TeleNav GPS Navigator, which provides GPS enabled turn-by-turn voice screen and on-screen directions. These on-screen directions are featured with colorful 3D moving maps and traffic alerts with rerouting. The service is available for $5.99/month for 10 trips or $9.99/month for any number of trips.
The new BlackBerry smartphone also features a two megapixel camera, a 320×240 pixel screen, stereo Bluetooth 2.0, a full QWERTY keyboard for e-mail, messaging and editing. The Blackberry Curve also offers you wide range of BlackBerry applications, including a full HTML Web browser, email, and multimedia features.
The most annoying part of the BlackBerry curve is that it does not feature integrated Wi-Fi connectivity. The BlackBerry Curve works on AT&T slower EDGE network.
AT&T is pricing the BlackBerry Curve 8130 for $199.99 with a two-year service agreement and a mail-in rebate. The phones are available now in black and red. Users can access BlackBerry email for $29.99 a month with a qualified voice plan, while International service is available for $64.99 a month. Users can access unlimited corporate email via BlackBerry Enterprise Service at $44.99 a month.
Image: Digital Trends