Are you ready for designer mobile phone? Then be ready for that. Armani, one of the most famous fashion designer in Italy is coming with designer and stylish phone at his show for Giorgio Armani womenswear for spring and summer 2008.
Samsung Electronics announced that the company has agreed to develop a new premium electronic products with Italian goods designer Giorgio Armani.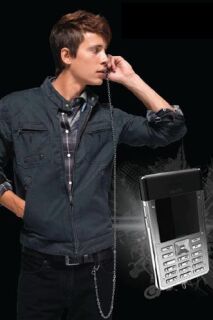 Under the business tie-ups, the two firms will jointly develop mobile phones, flat-screen televisions and other electronic products.
The new Armani-Samsung mobile phone would be the size of credit card and it would be 10.5 millimeters thick. While the firm is also developing liquid crystal display (LCD) television, which would be launched on January, 2008.
Armani stated that the firm is becoming more personal with the mobile phones or the televisions, so that customer can choose their own choice televisions or mobile phones as they simply do with their shoes or bags.
Luxury goods segments are increasing economic growth of countries like China, India and Russia. While Middle East has adopted luxury goods to increase commodity prices.
Image: Mobile Telefon