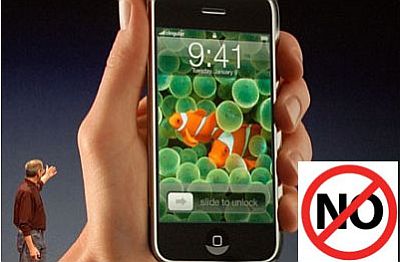 Apple iPhone, which is scheduled to debut on 29th of this month, is being eagerly awaited by number of Apple fans and other people. What if someone advices IT executives to keep Apple's iPhone out of their networks? Sounds strange but they have a reason for to support their viewpoint. The analyst firm Gartner is asking IT executives not to use iPhone in their networks. Gartner analyst Ken Dulaney cited:
We're telling IT executives to not support it because Apple has no intentions of supporting (iPhone use in) the enterprise. This is basically a cellular iPod with some other capabilities and it's important that it be recognized as such.
He further said that it is certainly a great device from the consumers' point of view but has very less to offer for the business class. It neither has any security features such as firewall nor does it supports Microsoft Exchange or Lotus Notes. Moreover, the hefty price tag of $599 won't be entertained by most of the enterprises. He says that there is no reason at all for employees to opt for the iPhone.
Randy Giusto of IDC said that the iPhone is not at all meant for the IT world. It's rather a personal device. On the other hand, Tony Rizzo, director of mobile technology research at the analyst firm, shows his doubts on the Apple's claim for the iPhone to deliver eight hours of talk time, six hours of Internet use, seven hours of video, and 24 hours of music playback.
The main question, that caught my attention at first glance, was raised by Rizzo when he said, 'Is it even going to be successful as a consumer device? I'm not giving up my BlackBerry. I like the keyboard, I like the trackball and I like the service.
My two Cents:
Gartner has a point, literally. Moreover, without 3G, it cannot be a high speed internet device. One more interesting thing to note is that a 2G phone in the market won`t raise much cheers considering the fact that we have many 3G phones out there.
Those who are spoiled with 3G speeds over their BlackBerrys and Nokia will feel crippled with 100-130kbps speed.
We are still not sure whether the Apple's new claims over the iPhone battery are true to the core.
Lack of security features will definitely restrain enterprises to go for the iPhone. Enterprises will definitely look for firewalls in order to avoid unauthorized access.
For personal use, Apple iPhone looks to be the just right thing with those widescreen iPod touting touch controls for the music nerds but for a business user, it has nothing much to offer except than the Mac OS X and a large display.
This report may have an adverse effect on the total iPhone sales. What Apple has to say in context to this report? Should we assume that most of the enterprises won't go for the iPhone? A few more days to go and then a few months, and we will get our answer.
Via: ComputerWorld