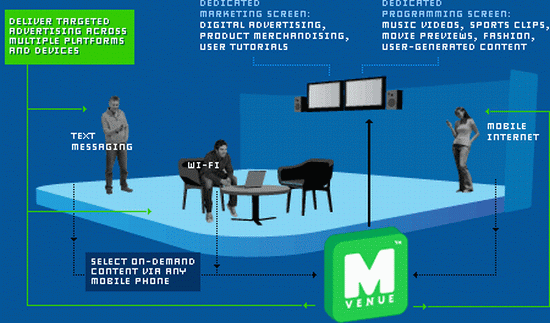 Soon enough you would be able to control what's on screen with your cell phone. Akoo (pronounced Ah-Koo) International is trying to get into place a system that could enable digital screens to be controlled via text messages from mobile phones. Essentially this system could transform a phone into a remote control, which could get content played on demand.
m-Venue – Akoo likes to call its interactive network with that name – allows users to send requests via text messages for specific content like a music video, sports clip or a news item to be delivered to the phone itself or be played on a Akoo TV screen. The two-way transaction would be completed with the companies delivering digital coupons and adverts on users' phone.

Several companies are using one-way communication to put promotions on cell phones, Akoo believes that its system is unique in the sense that users can in effect control advertisements to choose what they want to see. The content that the users might request from their cell phones may come from any of the big names like Universal Music Group, Sony BMG Music Entertainment, and Fashion TV; all of these companies have inked contracts with Akoo and have produced more than 2 million clips as a part of the bargain.
Akoo has run trial of its services before but Texas State College is the first college to join its network after the company made a deal with Chartwells – manager of food services across 200 American universities. Potential advertisers are flocking Akoo's offices, lured by the distinct profile of the potential users of the network.
The efforts of visionary companies trying to combine the areas of marketing and interactive content on cell phones are certainly bearing fruits. This bodes well not only for potential marketers but holds a lot of promise for the consumers as well who stand to benefit from choosing what they wish to view. As put on top, interactive just got very interesting.