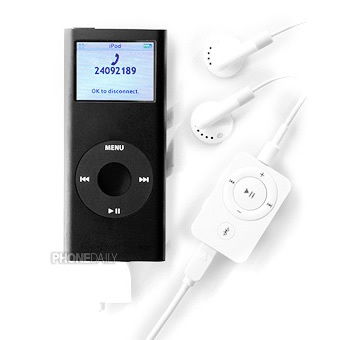 Apple was innovative in just making a phone while people who are desperate and also know that when June comes they still won't be able to lay their hands on iPhone can either take solace in the hacked iPhone interface that can be downloaded or can have iPod that more or less functions as a phone with MyBlu.
It's a Bluetooth 2.0 gadget that connects your iPod and phone via Bluetooth and lets you control almost all the basic functions of the phone.
When someone calls you the song on the iPod will get paused and the caller's number or ID will be displayed on the screen and you can choose either to pick or reject the call.
The gadget also gives you options of Voice dial, redial, caller list and weighs just 9 grams. It draws its power from iPod so battery required.
It can be a hit as I think not many people can afford the $499 and $599 price tag moreover the number of devices (read two) remains the same one PMP and other mobile but now iPod can have added functionality.
It can be bought for HK$598 or $77.
Via: Slashphone