No matter what phone you pick, if it is decent enough, it would come with a decent camera too. That's good enough for most of us, except for the ones who are really passionate about photography and want their smartphone pictures to be comparable to that of DSLRs and SLRs in the market.
Well, let's face the truth, no matter how good our smartphone's camera is, it won't be as good as even the mid-range SLR camera. This is particularly the case when it comes to features such as Optical Zoom. To make your phone as good as the cameras out there, you would need a very bulky smartphone, which is exact opposite of what everybody wants.However, in case you are specific about what you want, your phone can match the DSLRs in at least a few aspects. For that, you need to look for the best camera lenses for your smartphone.
Are external lenses for smartphones worth it?
Whether or not you need an external lens for your smartphone depends upon what you want your smartphone's camera to do. If you want your phone's camera to compete all around with the normal cameras out there, then you would need to buy too many lenses, which would be unfeasible. On the other hand, if you know something in particular and know exactly what you need, an external lens might be precisely the thing that you are looking for. Depending upon your need you can opt for any of the following lenses:
Types of mobile lenses
1. Telephoto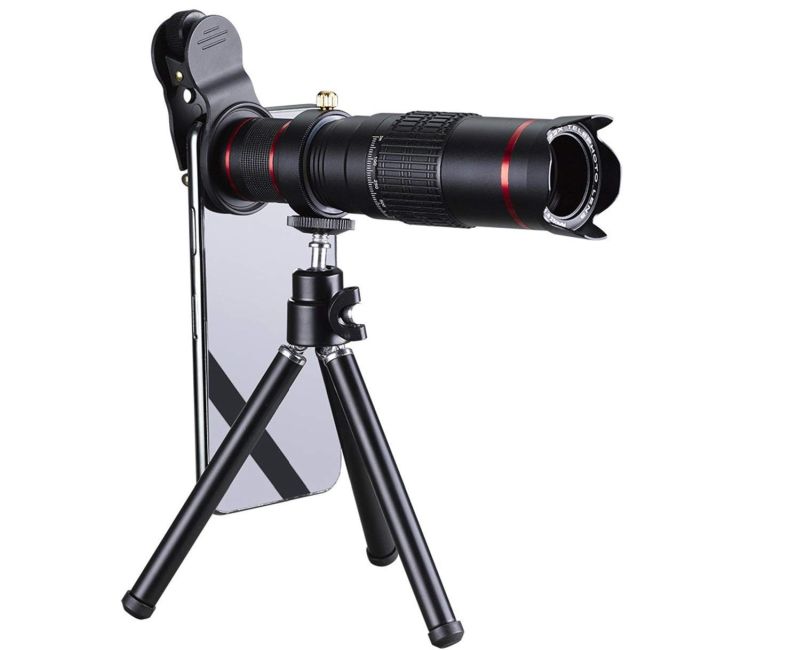 This is the most popular of all the external lenses for phones. Smartphones rarely come with an optical zoom that's good enough. So, rather than buying an expensive smartphone that supports optical zoom, buy an economical one and spend money on a telephoto lens instead.
2. Wide-angle
Like the name suggests, this lens would help you in taking wide angle shots. Though you would find option wide-angle shots in your phone too, but they aren't that effective. This lens would help you in taking picture of your city's skyline just the way you want to.
3. Macro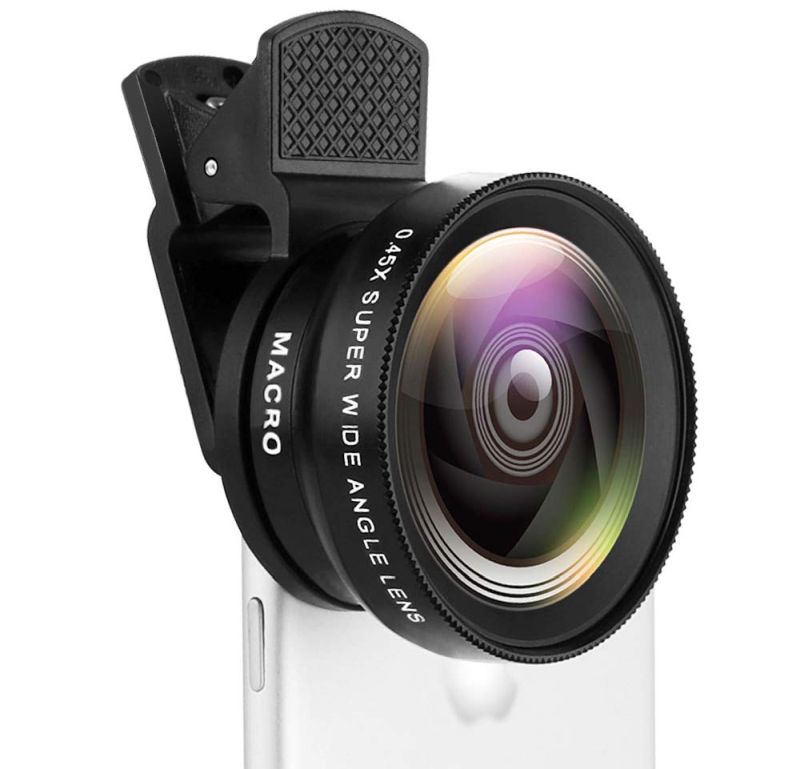 Just like wide-angle, almost all the phones have a macro option too, but the devil is in the details. It would certainly give you a better texture and quality than you can ever expect from your phone's macro mode.
4. Fisheye
An ideal fisheye lens is supposed to help you take a complete 180-degree shot, but whether the lenses really take a 180-degree shot or not is a matter of debate. You can simply say that Fisheye lenses help you in taking beautiful panoramic shots.
5. Monochrome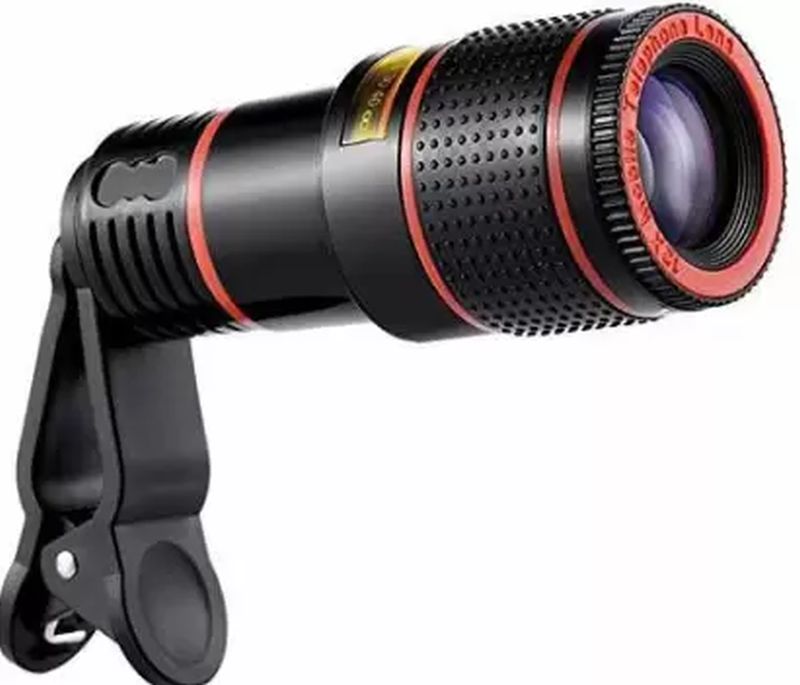 Monochrome photography isn't as popular as it used to be long ago. Part of this is because of the fact that nowadays you can simply take a colored photograph and then apply monochrome filter to it. Nevertheless, monochrome cameras are still there in the market. So, you can say that even now there are people who are enthusiastic about it. If you are one of them, a monochrome external lens won't disappoint you.
You would find more than many lenses of all the four types in the market, but there are some that stand above the rest because of their sheer quality or because they offer something that the others don't. Let's take a look at some of those phone lens options that satisfy either one or both of these criteria.
5 – Best external lenses for your smartphone in 2019
1. Olloclip Multi-Device 3-in-1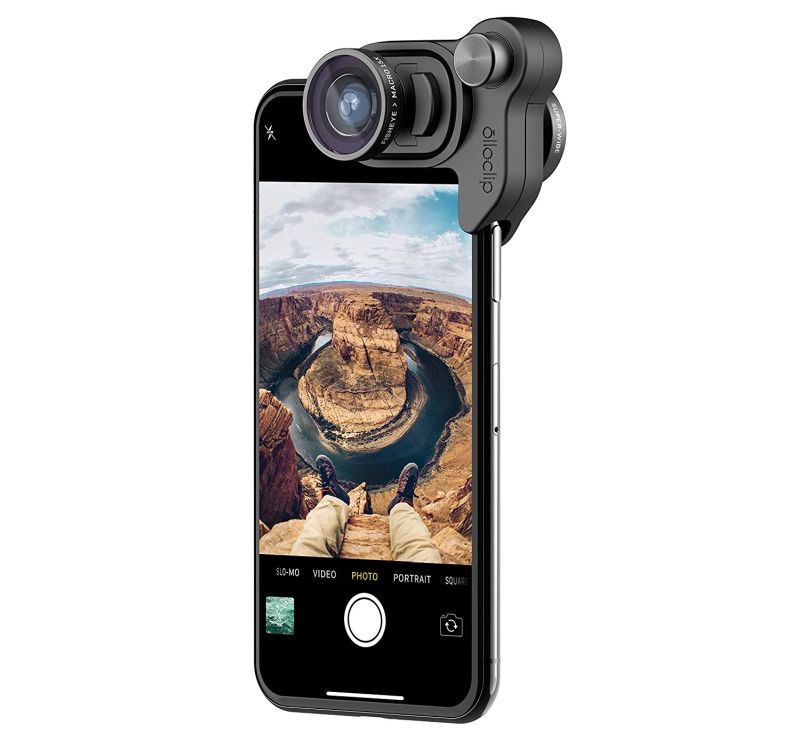 Function:15x Macro, Fisheye, Wide-Eye Shots
Price:₹ 4,229.00
Olloclip is one of the popular names in the market, and since it offers such a wide variety of features at such an affordable price, it surely deserves a look. Just like BitplayAllClip, Olloclip also fits a wide variety of smartphones. It is must have if you are into latest photographical innovations like 360° VR photos and Panoramas. Added to it are the 180-degree Fisheye shots and the high-quality macro and Wide-Angle shots. All in all, it comes with a broad range of features that would significantly enhance your phone's camera features. If one lens kit is all you need, opting for this lens from Olloclip wouldn't be a bad choice.
2. Aukey Ora Cell Phone Camera Lens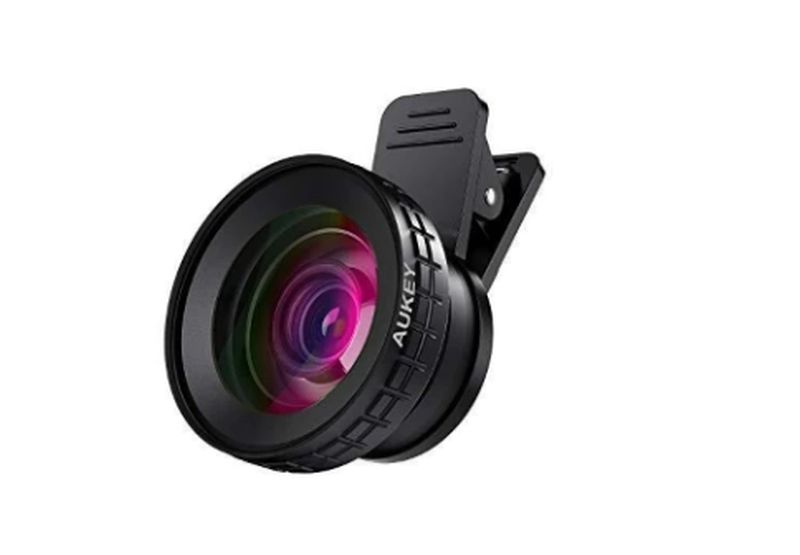 Function:140° Wide Angle + 10x Macro
Price:₹ 3,296.00
Aukey Ora lens kit is one of the best reviewed smartphone lenses out there, so you can say that it is one of the trustable smartphone lenses out there. Furthermore, it is even more affordable than most of its competitors. The features that this lens offers aren't any less amazing. With it you can take good quality wide angle shots and the macro allows you take nice close up shots. The only disadvantage that this lens might have is its lack of compatibility. Especially, if you have one of the latest phones are want to know whether Aukey Ora goes works with it or not, then before buying it maybe you ought to check if it is compatible with your phone. However, it works with most of the older phone models out there.
3. BitplayAllClip and Premium HD Wide Angle Lens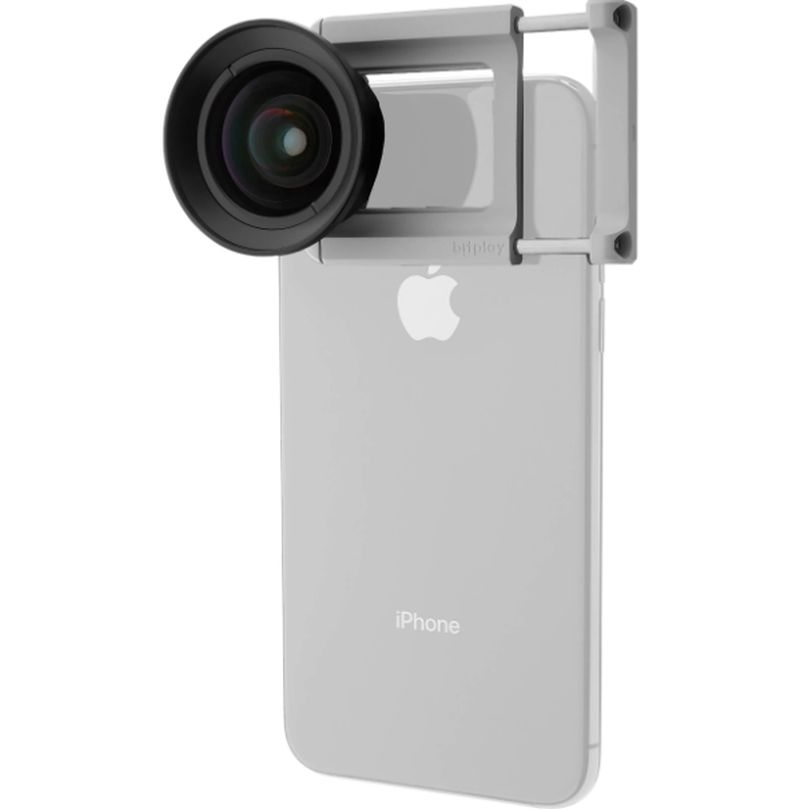 Function:Wide-angle shot
Price:₹ 20,919.00
The best thing about this lens kit by Bitplay is its superb compatibility. It can go with any model of iPhone after iPhone 4 and pretty much all of the popular android phones in the market. It utilizes a sliding clip with a spring to achieve this feat. Moreover, you can fit it not only above your front camera but your rear camera as well. As far the function is considered, this wide-angle lens does what a wide-angel lens should do. It expands the field of vision of your phone camera helping your take a snap with a much wider view. Although it is quite expansive to begin with, but its superb computability more than compensates for that shortcoming.
4. MACTREM Phone Camera Lens Phone Lens Kit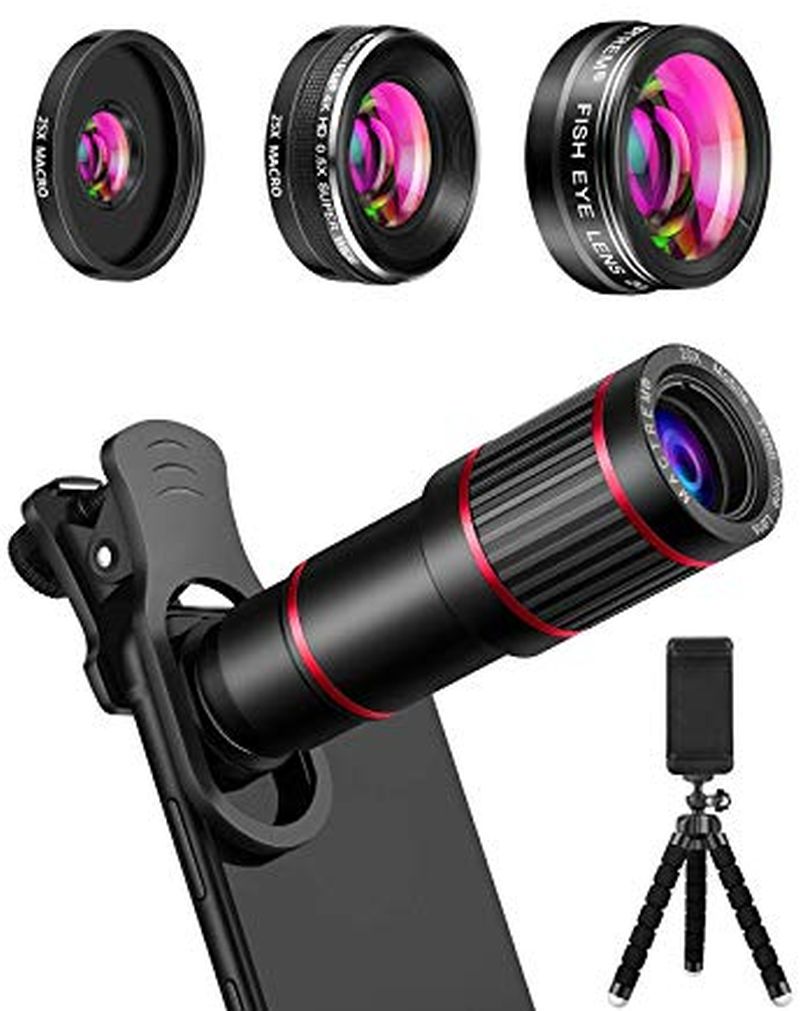 Function:20X Telephoto Lens, 205 Degree Fisheye Lens, 25X Macro Lens
Price:₹ 5,837.00
If a high range Telephoto lens is what you are looking for, this lens kit by MACTREM isn't a bad choice at all. It offers 20X Telephoto Lens, which is really good. Plus, the high-range Macro Lens are and Fisheye Lenses make it seem like it's absolutely worth it. Nevertheless, despite the exaggerated features, this lens kit also has its shortcomings. Like most of the other Telephoto Smartphone Lenses out there, it requires a tripod. In addition, because of its relatively poor design quality it is not as handy to work with as you might want it to. Despite all this, it is still value for money.
5.  Apexel 1.33x Mobile Anamorphic Lens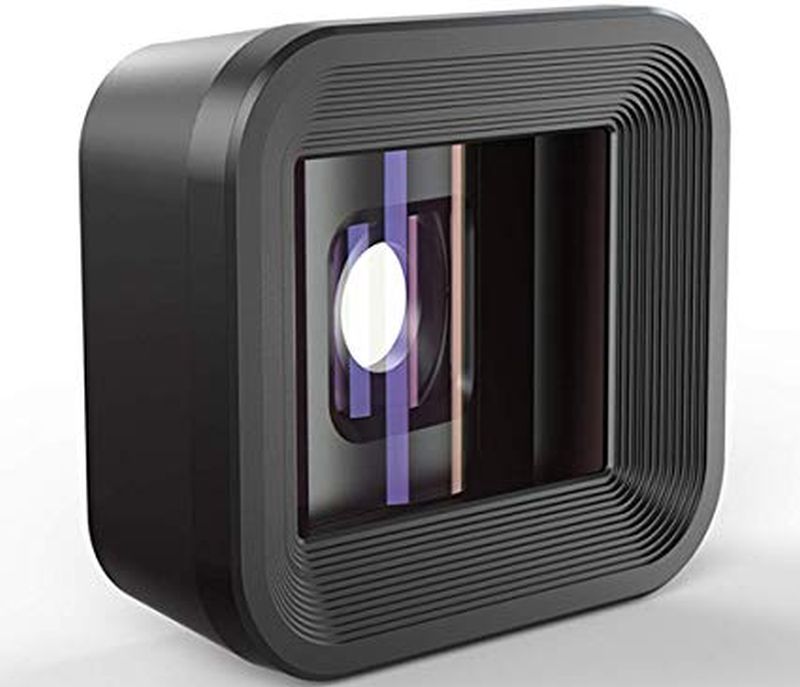 Function:Cinematic Video Shooting
Price:₹ 19,900.00
This lens is exclusively for the budding film directors out there. Pair it with some of the movie making apps and you are good to go.  It comes at a fraction of a price of a good quality video camera, but it isn't disappointing in the least. Using this lens, you can shoot video in an Ultra-widescreen 21:9 aspect ratio, which is also known as CinemaScope. Moreover, it neither crops nor distorts the video and just compresses it the aspect ratio that is best for movies. It's compatible with most of the smartphones out there. The only problem with it is that it doesn't serve multiple purposes like other lenses in the list. It just does one thing and does it well.