With apps like Evernote and Google Drive, you can improve your productivity with Android devices. While Evernote is your all-purpose Android app, Google Drive lets you easily store and manage all your files in a jiffy. In addition, LastPass is another great Android app that can keep all your passwords safe for you. Here is our pick of the 5 best Android apps to have on your device for a great experience.
5 Basic android apps everyone should install
Evernote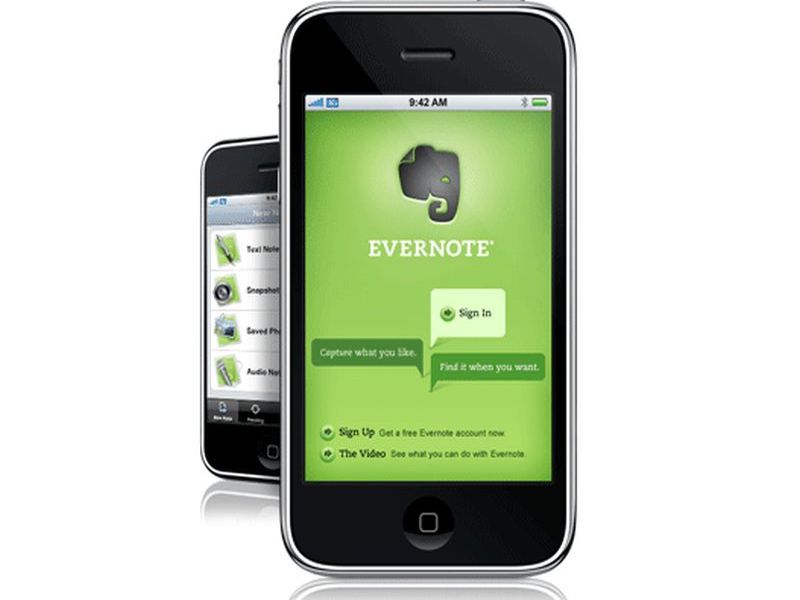 With functionality ranging from making and managing a list to assisting with a web page clipper, Evernote has it all. One great feature brought to the table by Evernote is its OCR (Optical Character Recognition). The feature allows you to search text within photos. The Android app supports a voice recording feature that lets you make notes using your voice. All you have to do is to say things that you want the app to note and voila, it will. In short, the app is a multi-tool app that helps you carry out research and deploy on your Android device better.
Google Drive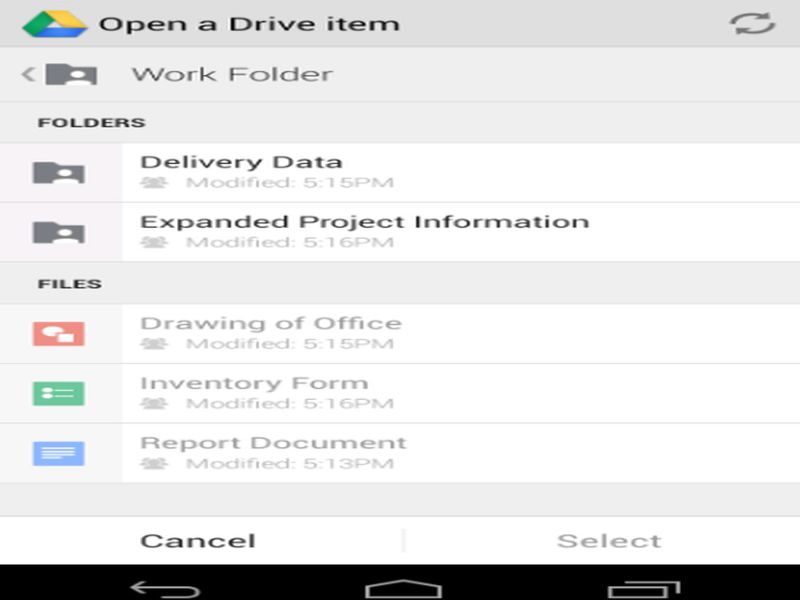 Everybody's favorite storage service is now available on your Android device too. In fact, Google Drive isn't only an online storage service, it also lets you store your files locally for offline viewing and editing. As soon as you come online, the changes are made automatically to the stored files. In addition, the Google Drive app for Android lets you access Google Sheets and other office utilities that let you manage your official files while on the go. The app can be used with other Google apps installed on your Android device.
LastPass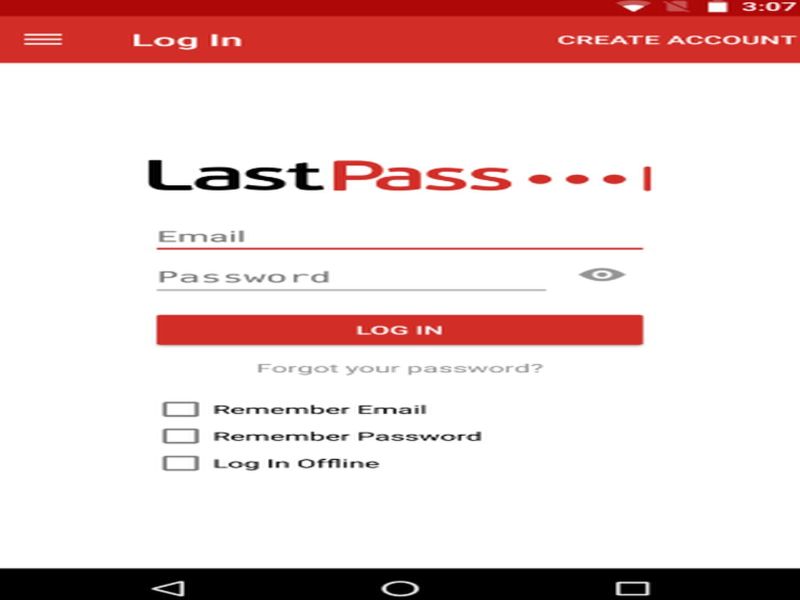 Want to manage your passwords; LastPass lets you create complex and undeterminable passwords for all apps and sites that require you to do so. The app fills in stored passwords not only to specific apps but to apps opened in other app windows too. In addition, to take care of all your passwords, LastPass allows your device to fill-up your personal information in forms automatically. You can safely share passwords with other people via LastPass's password sharing capabilities. The app works like a charm for those who easily forget passwords and equally well for those with hundreds of passwords to manage.
NordVPN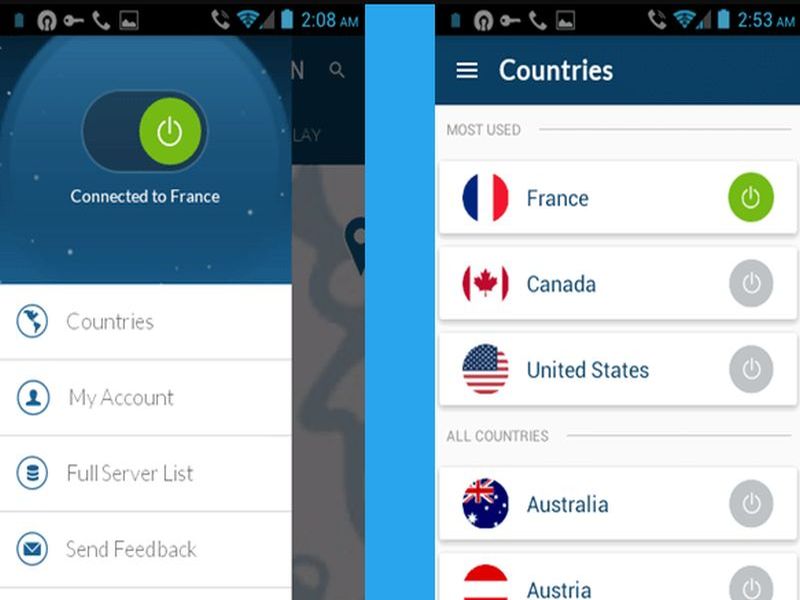 For safely connecting to public Wi-Fi networks with your Android device, NordVPN might come in handy. The app helps to keep your device safe against dangerous attackers looking to intercept your information. Other than this, the networking app lets you hide your IP address from advertisers. With the help of the app, you can access geo-locked content. The app allows you to select from a number virtual locations to display to your advertisers or to those that are spoofing on your network.
PicsArt Photo Studio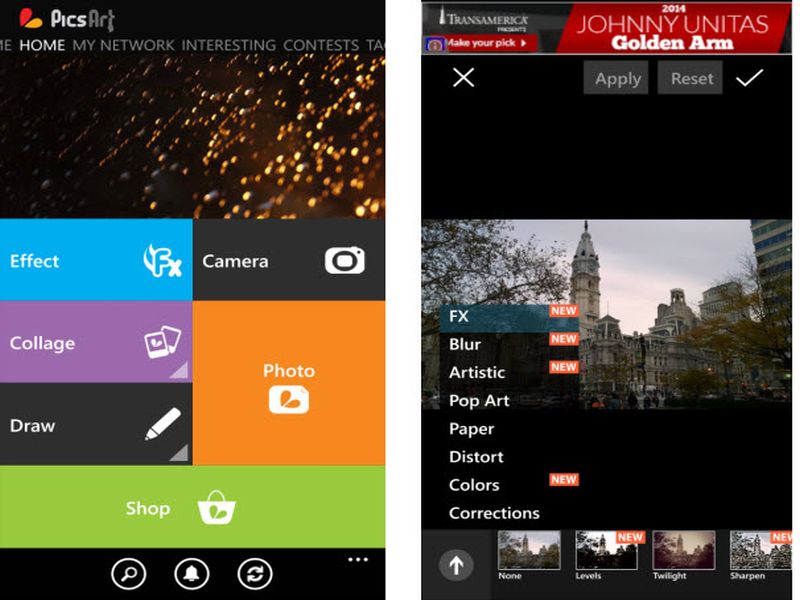 Smartphones are becoming more and more popular for editing and giving a small retouch to photos. To add you to the process, PicsArt Photo Studio is here. In addition to a number of photo filters, the photo editing app packs a number of photo tools that lets you create complete masterpieces perfect for uploading to Facebook and boast over friends. The app comes with a photo-sharing feature that lets you instantly upload your creations to Instagram. Whether you are looking to apply small minor effects on your pictures or like to redesign the entire image, PicsArt Photo Studio will surely come in handy for the chore.
10 Best Android apps that make rooting your phone fun
If you own an Android and have not rooted it, you may be missing out! Though rooting your phone may be a bit complicated, if you do it properly you will realize that it was all worth the risk. With an universe of applications at your disposal and better performance, you will have complete power over your device. So, If you have rooted your Android, the following applications are absolutely a necessity:
Wireless Tether

This nifty app turns your Android into a wireless tether. You can connect your laptop to the internet via Wi-Fi using the connection generated by your phone. It obviously requires your phone to be rooted and requires a netfilter-enabled kernel. The advantage is obvious, it is free! The only disadvantage, is greater battery consumption.
Metamorph


Metamorph is an app which basically allows you to mod your rooted android by adding or changing files on existing apps. This is an app for advanced users, who are crazy about making and tweaking themes. For example, if you want to change the color of the clock on your status bar, you use Metamorph to add a patch file to your theme.
This certainly is not the easiest thing in the world and most users prefer to choose form the multitude of modded themes on the net. But then again, this is fun to try.
Tasker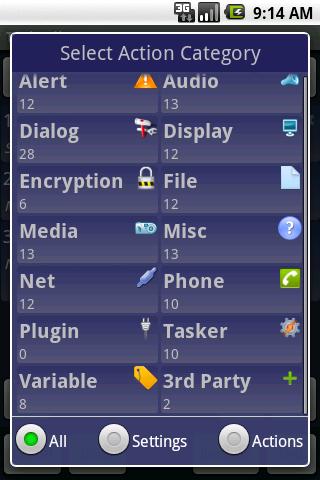 Running the Tasker does not require rooting your phone, but some of it's more impressive applications do. In a nutshell, it allows you to perform a task X, if Y is triggered. Here Y could be a time, day or when you change your location. X could be anything from a playing a specific song from your player, to converting test to speech or taking a time-lapse photo series.
This powerful app is a must for your phone.
BusyBox

BusyBox isn't actually an app, but is essential for the running of most of the apps on your rooted Android. It basically contains all the UNIX commands that you need, to run high end applications, which the Linux on your android lacks. If your phone is rooted, you need BusyBox.
Superuser


The Superuser is the app which gives you complete control over your rooted device. If while rooting your phone, the Superuser is not already installed, it is the first app which should be. While installing any application which requires root privileges, the Superuser gives you complete information about the app, and asks permission to run it.
SetCPU


SetCPU is a powerful tool, which gives you control over the clocking speeds of your phone. It allows you to decide how fast or slow you want your phone to run at any point of time. Perhaps you would like to reduce battery consumption while you are sleeping, or reduce processor speed if the temperature of your device passes a certain limit, all this can be done with the SetCPU app.
Titanium Backup


The Titanium Backup is like the safety fuse of your phone. It can backup all your apps and their data's, so if you ever seriously screw up your Android, this application acts like the system recovery. Using this, you can also delete pre-installed applications you have no use for.
SSH Tunnel


Many people shy away from using the public Wi-Fi available in fear of people snooping in on their private information. The SSH tunnel app combats this problem by providing a completely secure connection, so that you need not worry the next time you log onto Facebook or Twitter while sitting in a coffee shop.
Adfree


Ever had pesky ads popping up and making your device slower while eating up bandwidth? Then, the Adfree app is a must for your phone. This simple one touch ad blocking app is completely free and very easy to install. Unlike many other adblocker's in the market, this app prevents the ads from downloading, hence saves us a lot of money.
ShootMe


The ShootMe is an extremely simple and user-friendly application which allows you to take screen-shots of your phone. From giving your phone a shake to screaming at it, are some of the ways by which you can take a screenshot.
Five android apps that help you form better habits
A busy lifestyle, hectic work schedules and social dinners keep us all from forming those habits that we would want to lead our lives with. Our excuses come packaged in layers of deception as we try to deceive ourselves into believing that we just cannot take up that good habit. While earlier, motivation from friends and family was the only way to form good habits, today, we have apps that can help us form habits that can help us lead better lives.
How different would life be with a small technological change in the way we do things in life? Let us look at some of the best Android apps available that can help us form better habits.
Habit Bull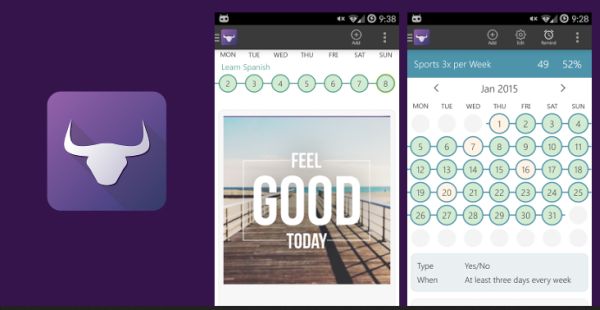 If you like intelligent apps, then habit bull is a great place to start. Do not get miffed with the simple interface of this app because it has a lot to offer than what meets the eye. Habit Bull helps you track your habits and then presents all your data in the form of an encouraging graph that helps you continue your habit for a long period of time. It has motivational phrases to keep you going and a calendar that counts the days for you. Just when you thought it couldn't get any better, the app also has a forum where you can get help and advice from others trying to form better habits.
Habitica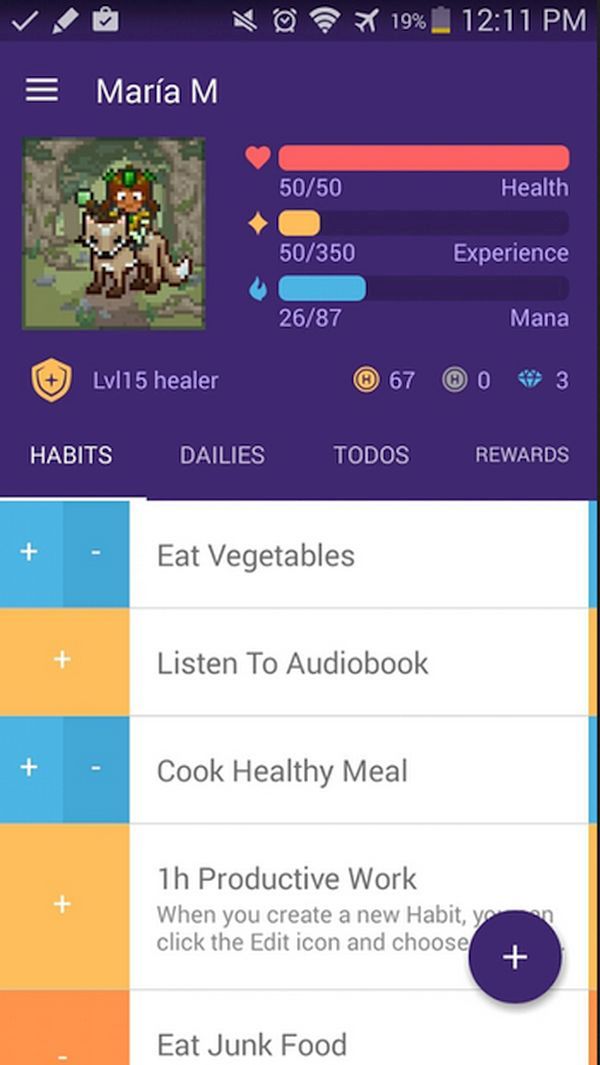 Sometimes, all we need is a break from the usual to help us pull up our socks and move towards better habits. Habitica is an Android app that offers just this. It does not treat habits as a difficult task that you need to accomplish, instead it turns everything into a frivolous game where you can input your habits and your goals and then accomplish these goals to level up in the game. You can have friends and family members join in and form better habits along with you as you continue to reach new levels with the game and accomplish your goals towards forming better habits in real life.
Google Calendar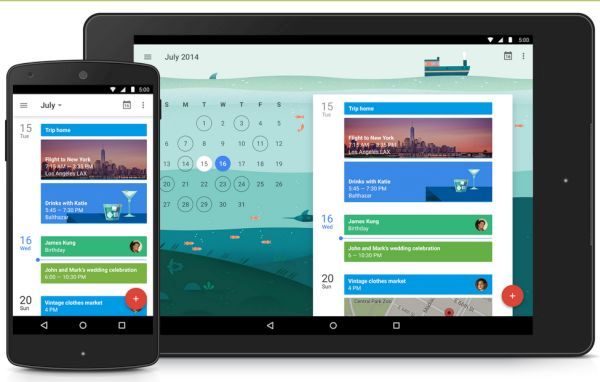 This is an app that almost every Android phone has, but the recent addition of the goals feature makes it even better, especially if you are trying to form better habits. With a calendar that is already synced in with most of your apps, you simply need to input your goals in Google calendar and the app tries to look for time for you in your diary. It will schedule regular slots and help you keep a track of the habit that you are forming.
Goalify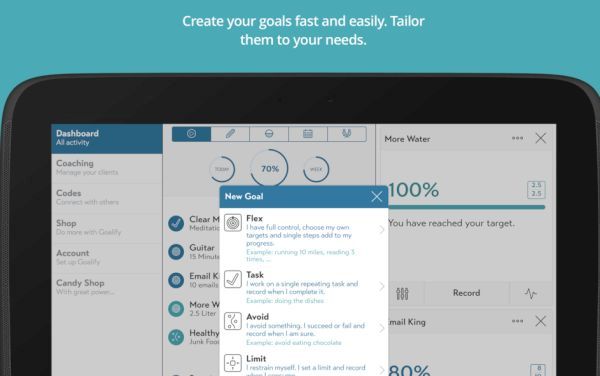 Another cool Android app that aims at helping you form better habits without having to crush yourself over is Goalify. The app is a game of sorts that helps you form habits easily and ensure that you keep a track of them. You can get plenty of reports and statistics about your success rate with the habits that you are trying to form and it can encourage you in doing better.
Habit Streak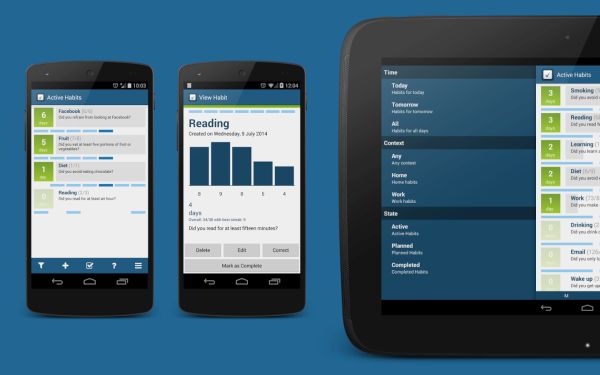 Your attempts of forming a good habit may have often been doused when you eventually gave in to your usual way of life. With habit streak, you can get help by staying motivated as you try to form better habits. You will be reporting every day whether you succeeded or not in forming the habit and this will help you form a chain that will go on till the time you continue to follow the habit. Try not to break the chain and very soon you will have formed the habit you have been hoping to do.
Before you start forming a habit, let me tell you that it is easier said than done, but with apps like these, the tables have turned and things have started getting simpler. When you know that you have to report your habit or when you have to level up, then following those good habits becomes essential and that is how you succeed. Use these apps for getting the most out of your phone when it comes to forming a good habit.