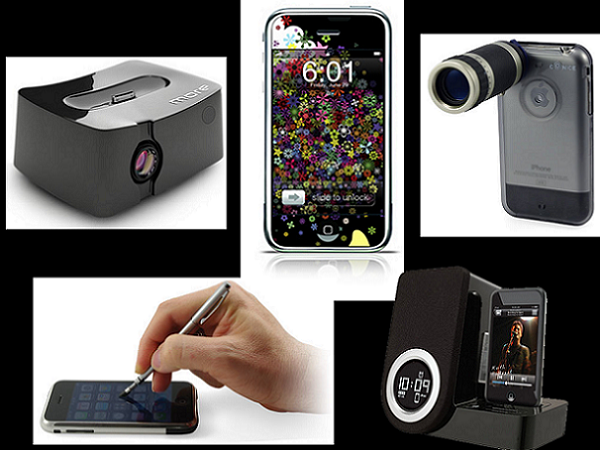 As amazing as the iPhone is itself, some of the accessories are even more so. We're not talking about the plain old cases, bluetooth headphones or docking stations, no. We're talking about the out right bizarre and crazy accessories that outshine his majesty – the iPhone itself.
These accessories are so unique, that you wouldn't even know what to do with them if you found one someday. As a matter of fact some of these pieces of work will make you go 'WTF', long after you've been told what they're for. How do they come up with these things? We don't know, but we encourage you to find out! Take a look –
1. The iUmbilical cord charger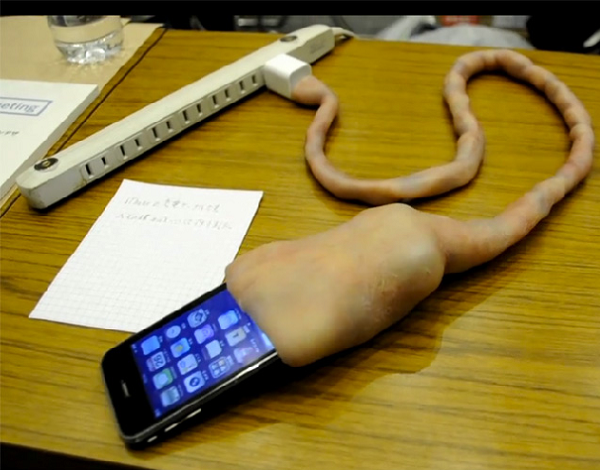 This is actually a charger for the iPhone. If you had seen this in the hospital near the maternity ward, you definitely wouldn't know the difference! That's how real this 'Mio-I-Zawa' made iPhone charger looks. It's designed to move like an actual umbilical cord while charging the iPhone with this. You may even find a striking resemblance to a reptile devouring it's prey, in it's appearance while charging.
2. The iHat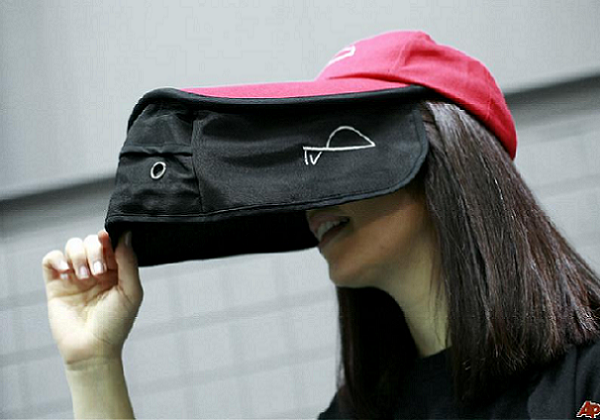 It's a bit hard find, but this iHat is undoubtedly one the most bizarre iPhone accessories of all time. It's basically a baseball cap with a built in screen covered by a veil. The veil protects shoulder surfing and side viewing. The built screen is made with a magnifying glass concept, which will magnify your iPhone screen when you're watching your favorite programs with the iPhone. It's available at Asseenontvhatdotcom for $19.95.
3. The GnG Shell
German brand GnG built, this shell case for the iPhone costs $108880. Let me read it out in words in case you're skeptical about the figures, it's one hundred eight thousand and eight hundred eighty dollars! What did you expect a pure 18 K, 14 grams gold body, with 400 diamonds designed shell to cost? Now even Donald Trump has a reason to buy an iPhone!
4. iPhone zoom lens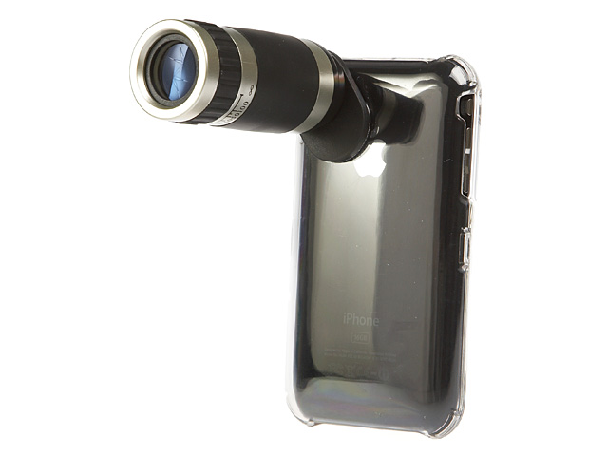 This little add-on will provide your iPhone camera with an additional 6 x optical zoom. This zoom lens is designed by Conice and it's quite inexpensive at $15. This lens will not only zoom the pictures, it will also add more clarity and cut through the most dense fog. This lens weighs about a 130 grams.
5. iBottle opener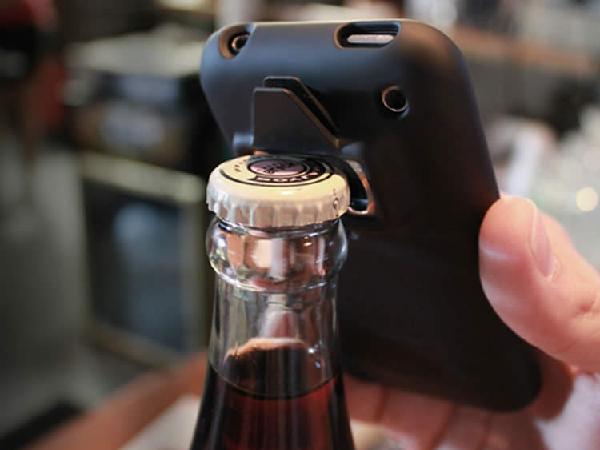 This is basically for iPhone addicts and geeks who want to do everything with their iPhone! Or it's made for drunks by some drunk! Seriously, why do you need to open a bottle with an iPhone, just plain show off at a party or because you're out of ideas? Okay, it's not that bad! It's actually a very sturdy case for your iPhone with a bottle opener at the rear. Sounds better? Go get it!
6. 80's Gordon Gekko case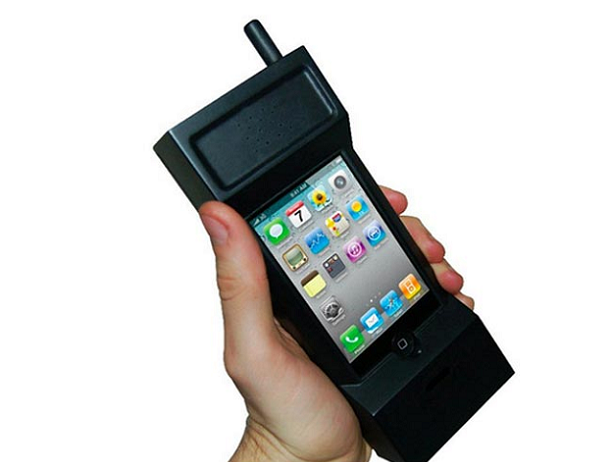 This is a case for those with 80's fever. This 80's 'Gordon Gekko'(played by Micheal Douglas), look alike case from the movie 'Wall Street' will make your 80s nostalgia run wild. It's only $20 and provides great protection for your iPhone as well. And hey! It's only $20, so when you're through with the 80s, send it back there!
7. Round dial telephone speaker dock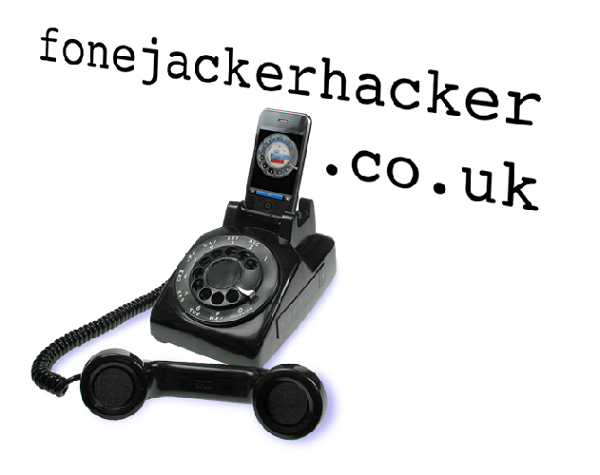 Designed by renowned British accessory makers, M Booth (fonejackerhacker), this speaker phone cum docking system is built to look like a old rotary telephone receiver of the 1940s. This system has three speakers in three sides to give you a boost of sound and the iPhone can be kept on the cradle.
8. Dry Case waterproof cases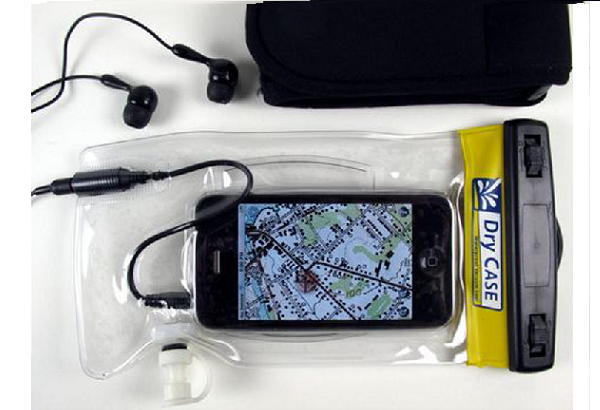 Built large enough to fit both iPhone and iPad, these Dry Case made cases can help you to operate your iPhone underwater. So if you're a professional swimmer who needs to use his or her iPhone to close endorsement deals – this is a must buy! And also for coral divers and lifeguards! Look, just get it anyways, okay! Prices range from $30-$60.
9. iPhone Gadget Holster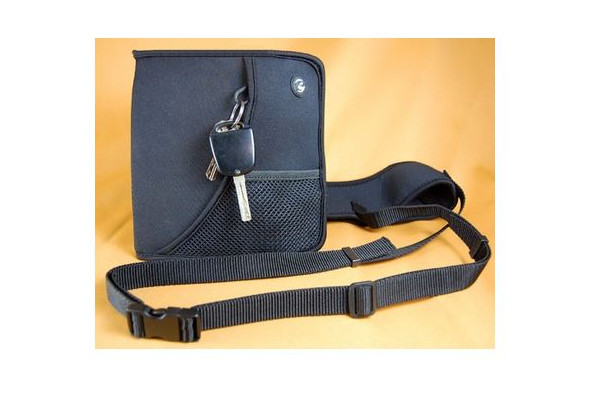 Made by e-Volve, this gadget holster was built for the iPhone addicted cops, who cannot do their duty of fighting criminals properly because they might put their iPhone in jeopardy while doing so! Yep, this shoulder strap holster was definitely designed to fit the police resume. It also comes in a single strap holder and in wallet forms. The cost is somewhere around $40-$50.
10. Hypermac Micro external battery
Now this little baby is definitely the show stopper right here! It's at the end of the least maybe because it's the less bizarre from the preceding ones, but this unique piece of work is also the most useful one. This battery can be plugged in to your iPhone to provide an added 5 hours of battery life for $70.