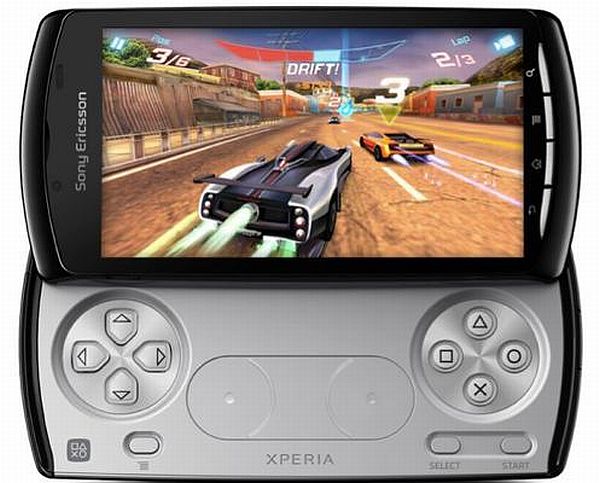 Sony Ericsson is known for bringing us fantastic gaming experiences, both in terms of their gaming console PlayStation and handheld gaming device PlayStation Portable. When Sony Ericsson announced their flagship Android phone Xperia 10, gaming enthusiasts started speculating that a PlayStation branded Xperia phone is just a matter of time. And this time the speculations did not just go into water as Sony Ericsson announced its Xperia Play officially on 13 February, 2011 at Mobile World Congress 2011. The handset is truly a gaming powerhouse with official PlayStation suit installed onboard. Let's take a closer look at the most distinguished features of Xperia Play.
1. Dedicated Gamepad
The first thing that gains users' attention after picking up a Xperia Play is the slide out game pad with familiar set up of 2 analogue touch pads, 4 PlayStation buttons and 4 arrow buttons. So far, none of the Android handsets are made with gaming specifically in mind, leave alone a slide out gamepad and that makes Sony Ericsson Xperia Play unique. The gamepad does not only make gaming experience easier but it also makes the existing PlayStation gamers feel right at home.
2. PlayStation Suite
PlayStation Suite is a software framework from Sony Ericsson that is installed on Xperia Play and delivers cutting edge gaming experience. Xperia Play is not just another Android device that can play games, it also has a dedicated app store named PlayStation Store for the latest and older PlayStation games.
3. CPU and GPU
The CPU used in Xperia Play is in fact a heavily optimized Qualcomm Scorpion which is clocked at 1 GHz. It is coupled with a Qualcomm Snapdragon MSM8255 chipset and 512 MB of RAM. On the GPU front, Play has a Adreno 205 on board, driving the PlayStation games Sony Ericsson has to offer on its PlayStation Store. Sony Ericsson promised a fluid gameplay at around 60 FPS with current crop of 3D games available at the store and the device does not disappoint.
4. Display
The screen used in Xperia Play is LED backlit LCD display with capacitive touch technology and has a resolution of FWVGA or 480 x 854 pixels. Under normal conditions the display of Xperia Play offers decent colors and contrast ratio, enough to drive a memorable gaming experience. It has a number of downsides too as the viewing angles are not too good and AMOLED displays are considerably better.
5. Camera
While PlayStation branding is definitely the phone's USP, the included 5 megapixel camera does not disappoint. It is assisted with a single LED flash and offers image stabilization and geo tagging. The camera shoots respectable pics with vivid colours, good contrasts and lower noise levels. If you are not behind the number of pixels a camera has and like to present your pics without cropping then you would love the Xperia Play's camera. In terms of video recording, it maxes out only at WVGA resolution at 30 frames per second. Since gaming is the key here, this can be readily omitted.
6. Great browser
Xperia Play also comes loaded with a great browser and moreover with Flash support. The browser in Play has a minimalistic UI that uses the available screen estate pretty wisely and does not come into the way of user. It is fast and responsive, using the traits of Android. Flash 10.2 support is quite good and the non HD videos play fantastically smooth, so does the flash games.
7. Music player
The built in music player featured in Xperia Play has a nice interface and laid out in pretty great fashion for best usability. The dark accents of the UI looks good for long usage and accessing the controls are also pretty easy. The audio quality is excellent, to put in one word. Frequency response of the phone is more than good and the speaker gives excellent output without a headphone attached.
8. Battery life
Sony Ericsson included a battery with 1500 mAh capacity and that means a lot of juice to keep your gaming sessions going on. According to Sony Ericsson, you can play games constantly for 5 hours and 35 minutes on a single charge and that is pretty impressive. Other than that, Xperia Play has a standby time of 405 hours and 2G talktime of around 8.5 hours.
9. Communication
Sony Ericsson provided the phone with extended communication options, ranging from connectivity to all popular social networking websites just from the phone UI without the need of a browser. Xperia Play also offers conference calling, Noise Shield feature and Sony Ericsson's customized Android UI named Timescape which integrates your contacts with email and social networks.
10. Navigation
Xperia Play comes with Assisted GPS and Google Maps and connects very fast to satellites under a minute even with Assisted GPS switched off. Google Maps integration is fantastic and Street View is experienced beautifully with just flicks of touches. Digital compass also helps to get a virtual tour of surroundings through Google Maps. Add turn-by-turn voice navigations to the mix, Xperia Play comes out as a fantastic navigating device.
Sony Ericsson put a brilliant effort to bring out a portable PlayStation branded phone with Android onboard and Xperia Play does not let them down. If you are really into handheld gaming and also looking for a suitable smartphone, then Xperia Play is the one you should choose, without a doubt.