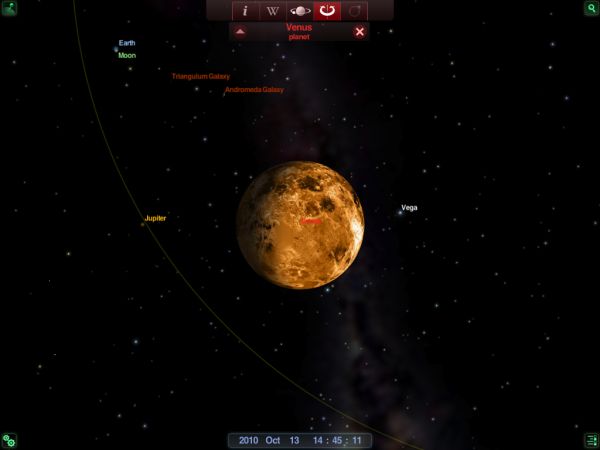 Astronomy is a very interesting subject and it is loved by those who want to know more and more about the universe and different celestial bodies. Previously astronomers used to rely on their telescopes to know more about the astronomical bodies but these days they have several things at their disposal to get information about the astronomical objects. There are some smartphone apps which also help the wannabe astronomers hone their skills. Here is a list of 10 best smartphone apps for wannabe astronomers:
Pocket Stars Astronomy Software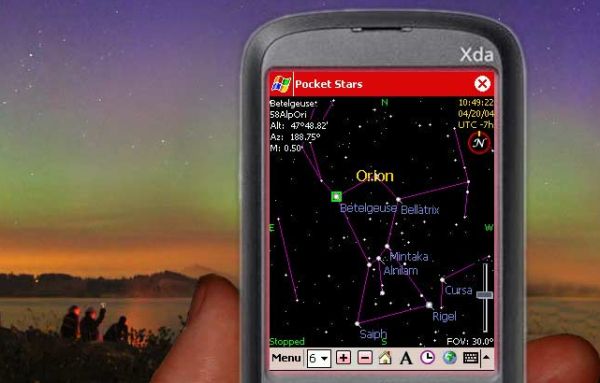 This app is a very useful thing for astronomers because it is a very accurate star chart. The Pocket Stars app features Celestial Navigation calculator as well. This app is compatible with Windows Mobile 6.0 Professional and Classic, Windows Mobile 5.0, PocketPC Phone Edition, PocketPC 2003SE, PocketPC 2003 and PocketPC 2002. The trial version is free, while the licensed version costs $19.95. The size of this app is 1.78 MB. The star charts are in white, black and red star colors.
Sundroid Pro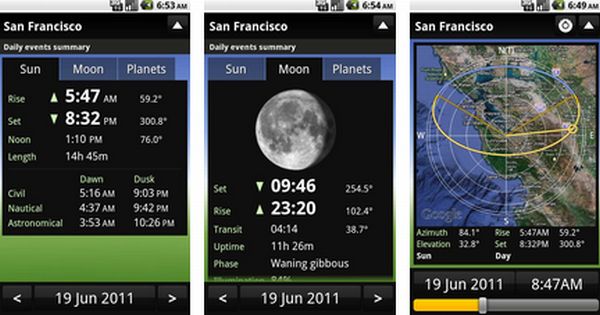 Priced at around $2.99, this app is perfect for those wannabe astronomers who are interested in knowing about the movements of the sun, planets and moon. This app allows the users to calculates sunrise, sunset, golden hours, twilight, day's length, time for moonrise, moonset etc. This app has four widgets, which means that the users can get all the necessary information quite easily. It gives the time of the sunrise and sunset with azimuths. Besides the time for sunrise and sunset, this app also gives the rise, set and transit times all the nine planets and moon. The latest version of this app features sun, moon and planet tracker.
Astronomy Picture of the Day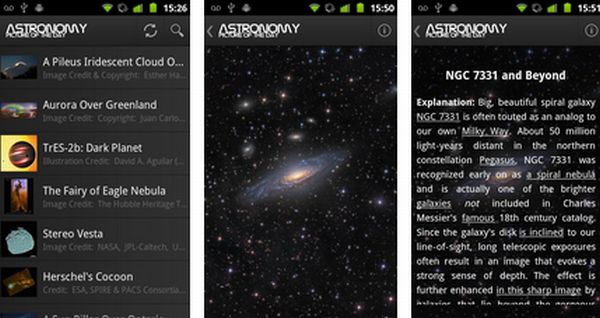 Last updated on September 13, 2011, this app is free. The latest version 3.0.9 requires Android 2.0 and up. The Astronomy Picture of the Day (APOD) allows the users to set astronomy pictures as the wallpaper of their home screen. It also helps them receive NASA's latest pictures. The APOD is compatible with all launchers. This app also provides information about different celestial bodies.
Starmap Pro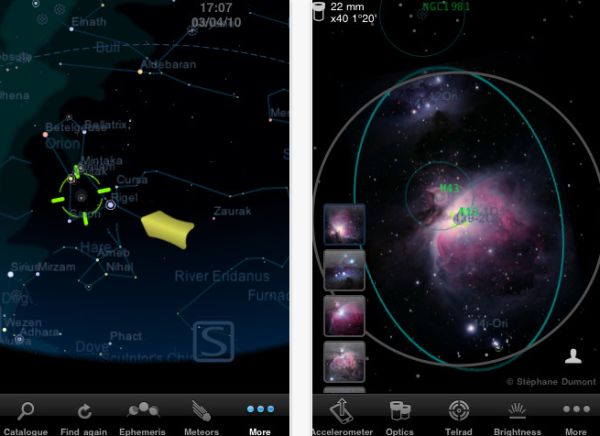 Priced at $9.99, the Starmap Pro was last updated on October 21, 2011. The size of the current version 2.3.2 is 78.4 MB. This app is available in different languages including English. Fruduric Descamps is the seller of this useful app. The app features 2,500,000 stars with Tycho 2 and SAO. Starmap Pro features 8,300 stars with their detail physical characteristics and a map of the moon with 9000 features. It also features meteor zones. This app is user friendly as it allows the users to search for stars by text and ids.
Sky Gazer

The latest version 4.5 of Sky Gazer is compatible with Mac OS X and Windows. This app is a perfect thing for those who want to explore the wonderful night sky. You can use this app on any place on the earth to view the sky. With over 312,000 stars and14, 500 star clusters and galaxies for display, this app is really a boon for the wannabe astronomers. The database of the solar system contains information related to nine planets and their moons.
Star Chart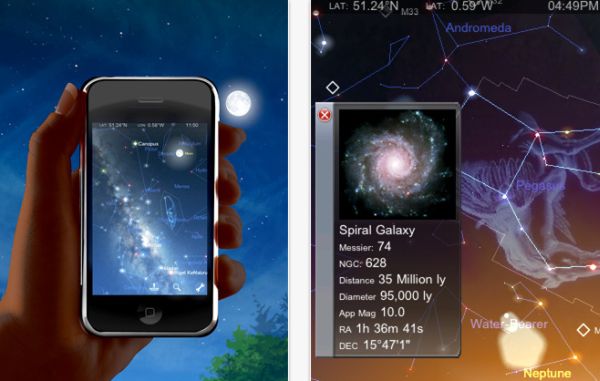 Priced at $2.99, the Star Chart is designed for both iPad and iPhone. This app was last updated on Apr 05, 2011. The latest version 1.86 is of 11.5 MB. This app is available in different languages including English, Chinese, French, etc. Feel Great Publishing Limited is selling this app.
GoSkyWatch Planetarium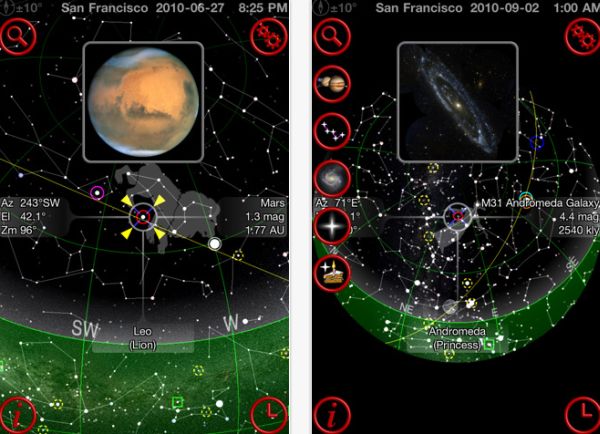 Priced at $5.99, the size of the latest version 4.0.1 of the GoSkyWatch Planetarium is 12.78MB. This useful app was last updated on April 13, 2010. You need an iTunes account to purchase this app. GoSkyWatch Planetarium runs well with iPhone/OS 3.x/4.x. You can use this app to locate and identify different astronomical bodies including stars, moon, planets, etc.
Distant Suns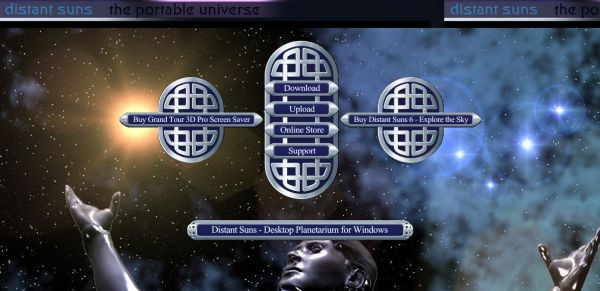 Priced at $9.99, the latest version of Distant Suns, the Distant Suns 3 was last updated on 27 September 2011. The size of this app is 49.9 MB. Developed by Mike Smithwick, this app is available only in English language. This app runs well with Windows Me/2000/XP/NT. It is compatible with iPhone as well.
Grand Tour 3D – Pocket Solar System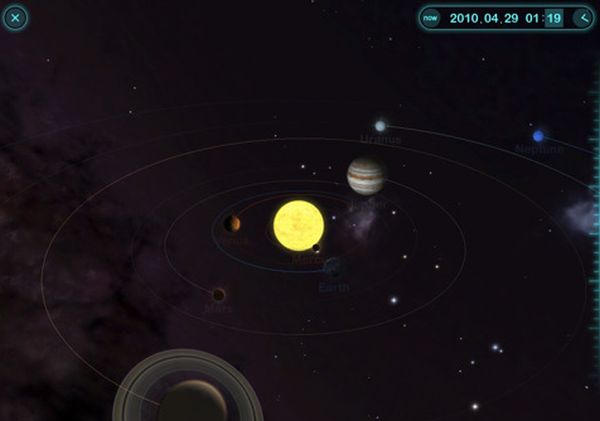 This app is like a pocket solar system as it allows the user to travel in the solar system and observe the celestial bodies from a close range. The Grand Tour 3D also helps the user see the moons. This app delivers superb images and the planetary positions in this app are updated automatically.
AU – The Solar System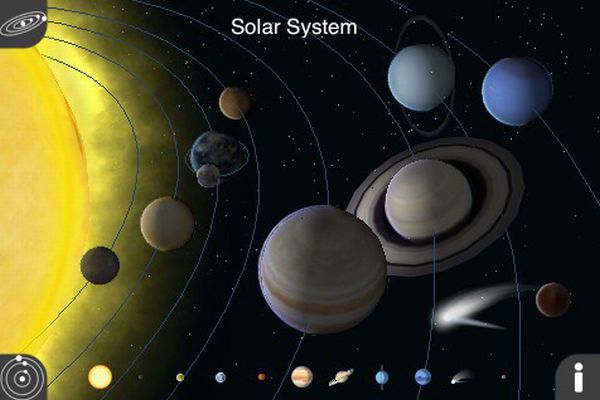 Priced at $1.99, the AU – The Solar System was released on Mar 27, 2009. The size of the latest version 1.01 is 5.4 MB. This app is developed by Studio Orb, LLC and it is available only in English language. You can browse planets and other celestial bodies in 3D using this app.