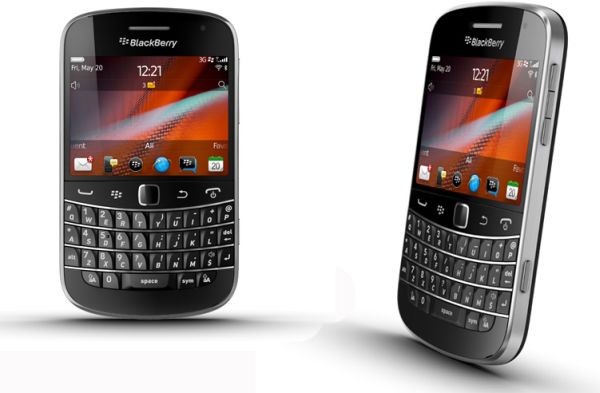 BlackBerry Bold 9900 is a name given to a brand new smart phone in the series of BlackBerry's. It is one of the best product by RIM for every businessman or business women. BlackBerry Bold facilitate its user by providing both touch as well as type facility. Its elegant design and metallic silver side lining make it so attractive that you can't stop without touching. Its feather light weight around 130 gram and a long battery life make this phone more smarter than any other phones. The screen lock/unlock button is conveniently situated at the top of the phone and volume control button on the right hand side that you can control without much effort. It has a screen resolution of 640*480 pixels plus an incredible sharp touchscreen is really appreciable. So you can imagine the look and feel of this BlackBerry smart phone.
As being a smartphone BlackBerry bold 9900 has all the qualities of a perfect business phone as well.These are some features listed below that make you understand that why BlackBerry is a perfect businessman phone.
1. Better keypad
BlackBerry Bold 9900 has a advance QWERTY keyboard design which facilitate user to type very quickly and effortlessly. The keyboard layout is very spacious as well as tactile to handle. This Qwerty keyboard can help you to type single letter in one single stroke and really fast to operate.
2. Long battery life
Long battery life is an essential key strength in all BlackBerrys but BlackBerry Bold 9900 has a superior quality battery power of 1200 mAh. This is very useful for any businessman so that they always remain available for their clients.
3. All time connectivity
This phone has all connectivity feature like GPRS, EDGE, Wi-Fi, 3G and BlackBerry Bold 9900 is 4G enabled, so that you stay connected all the time. This feature makes this phone extra ordinary for businessman as well as social sites users.
4. Operating system
BlackBerry 7 operating system is one of the best operating system which drive BlackBerry's software and applications more efficiently than any other operating system. This OS 7 is coupled with 1.2GHZ processor which support multitasking process, so no chance of lagging or slowing of your work. One of the outstanding feature of this phone is its way of managing files. Phone memory organised your data in such a way that no one get confused during searching of business documents or personal files. Blackberry Bold 9900 come with 8GB of inbuilt memory and over it 32GB expandable memory which help to save lots of business related as well personal documents. Also It has something that every corporate person need the most is the best e-mail device with some information management applications like calender, calculator, task and many more.
5. Voice calling
Voice calling of BlackBerry Bold 9900 is very strong. Its superior RF performance and capability to catch solid connection is very appreciable. Its ear phones are also very comfortable and sound quality is very soothing.
6. Call quality
Call quality depends on network which we use but less or more it also depends upon your handsets. The call quality on BlackBerry Bold 9900 is great on any network.
7. Camera quality
This phone has a superb camera and lid over it which prevent it from any damage. Its auto focus feature with 5 mega pixel camera is perfect one for clicking any photos or for making videos.
8. Browsing feature
BlackBerry Bold 9900 have some lack of support for flash but still its browsing experience is good. It has little limitations like some sites are restricted but otherwise the pace at which the device delivers the pages on to your phone screen is simply appreciable by users. Hence, it support smoother web navigation and HTML support.
9. GPS/Magnetometer
Blackberry Bold 9900 equipped with a digital compass called as magnetometer which help user to find directions at any unknown place. It also equipped with orientation sensor (accelerometer), proximity sensor, integrated GPS/AGPS, dual band wi-fi, Bluetooth 2.1 EDR, a tri and quad band, etc.
10. A professional and smarter look
BlackBerry Bold 9900 has extraordinary features as well as very smart look and feel that every business professional want in his hand. Its liquid graphics with orientation sensor for auto rotate, proximity sensor for auto turn-off and an optic fiber sensor on scroll button make this phone very different from others. You can say it is a real status phone.
Now, you can imagine that BlackBerry Bold 9900 is really an incredible one and a top class business phone proposed by 'RIM'. So, make your business more efficient and exciting with this new sensational phone.