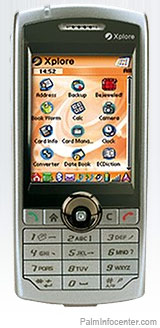 Well, if you thing the Treo is the only smartphone in the Palm's wardrobe, you are mistaken. GSPDA has announced the brand new Xplore M70 smartphone on the Palm's site. The main features of the Xplore M70 are:
-1.3 megapixel camera with digital zoom.
-Palm OS® 5.4 Garnet.
-Display: 260K Color, 2.2′ TFT 176 x 220 pixels, touch screen.
-GSM 900/ 1800/ 1900MHz.
-Video recording and playback (support MPEG 4 and 3GPP format).
-Email support (POP3, SMTP) with viewing.
-Support GPRS Class 10/ xHTML/ WAP 2.0/ MMS/ SMS.
-External SD card expansion slot.
-Bluetooth, Infrared and USB connectivity.
Image: PalmInfocenter
Via: SmartPhone