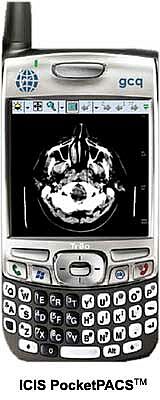 Now doctors won't need standard radiography system anymore as they can view the X-ray on their cell phone screens. It has been made possible by ICIC PocketPACS application that takes images virtually and sends it to the cell phone via Internet or cellular network.
ICIC PocketPACS can take chest X-rays, bone X-rays, CT scans, MRI scans, and of most of the parts of body. The system displays the PACS images at a high resolution and maximum screen size.
ICIS PocketPACS is supposed to be in the market by Oct.x 2006.
Via: Cellular News