In the battle to gain leading position in the smartphones market; many new players are entering offering a number of new features in their products. This is leading to a tough competition in the market. Most of the phones have more or less same features. There is slight difference in the features of these phones. This small difference in their features is enough to give a cut throat competition to the marketers. Every company is trying to bring new and more innovative models in the market. These new models are very appealing to the buyers. But at last it is the features that matter the most to them. So, the final stress should be to make a phone that has the best and most advanced features.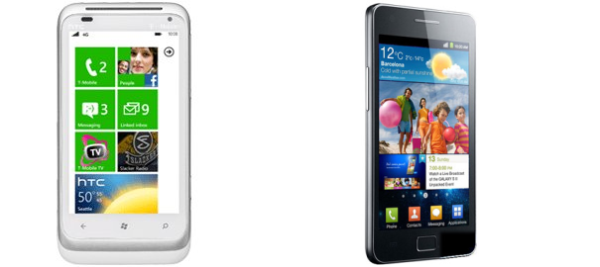 The Challenge
Both HTC and Samsung are well known mobile phone manufacturing companies. HTC has introduced Radar 4G. This is a new phone from the house of HTC. It has a number of innovative features. On the other side, Samsung has also introduced a new smart phone under the name Galaxy SII. This phone has a number of features that make it different from others. To make you understand the features of both phones, we have made a comparison.
Comparison Attributes
Both HTC Radar 4G and Samsung Galaxy SII have their own plus points. Their features are more or less same. There are only small differences in their attributes. Some of the main differences have been shown below. These differences help a person to make a final decision regarding the purchase.
Operating System
To start with the Operating System, both phones have built-in latest OS.
HTC Radar4G– Microsoft Windows Phone 7.5 Mango Operating System.
Samsung Galaxy SII- It has Android Operating System, v2.3.5 (Gingerbread).
Front runner: HTC is a better option for those who have got bored with the Android market.
Memory
It is used to store all your important data, clicks, music files, videos, etc. A phone should have a good memory enough to store all your important data.
HTC Radar4G- Internal 8GB storage with 512 MB RAM. It does not have a card slot that means this phone is not having any kind of external memory.
Samsung Galaxy SII- Internal 16GB/32GB storage space with 1GB RAM. It has a microSD which is expandable up to 32GB. 8GB memory card is included with the phone.
Front runner: Samsung Galaxy SII is a clear cut winner with more memory space available as compared to its rival HTC radar 4G.
Camera
HTC Radar4G- It has 5 MP camera with auto focus and LED flash.
Samsung GalaxySII- It is available with 8 MP auto focus and LED flash camera.
Front runner: Here again Samsung Galaxy SII is a better phone. It has 8 MP camera. On the other side, HTC's Radar 4G has only 5 MP normal camera. This difference may appear small to most of the people, but it is enough to take a better click.
Video
HTC Radar4G- You can make a video of [email protected]
Samsung Galaxy SII- You can make a video [email protected]
Front runner: Samsung Galaxy SII helps you make a better video. With 1080 pixel camera quality, you can make a much clearer and bright video. Thanks to the latest technology used by Samsung.
Radio
HTC Radar4G- Stereo FM radio with RDS
Samsung Galaxy SII- No radio
Front runner: This is an area where HTC Radar is a step ahead from Samsung Galaxy SII. This feature is important only for those people who listen to the radio more often. Most of the people these days rely on internet radio, so Samsung has not entered this feature in their smart phone.
Battery
HTC Radar4G- Li-Ion 1520 mAh
Samsung Galaxy SII- Li-Ion 1850 mAh
Front runner: Samsung Galaxy SII has a stronger battery with a better back up. It can be seen from the mAh of both batteries. It is the one area where HTC could have performed better. It should have worked on increasing the battery life.
The winner
If you look at the features of both HTC Radar 4G and Samsung Galaxy SII, you would find Samsung Galaxy SII to be a winner. In all aspects, it is a better choice than the HTC radar. Galaxy SII has better picture quality because of its 8 MP camera while radar has just 5 MP camera. Similarly, Galaxy has a better video quality with 1080 pixels. This helps you to make high quality video. In the memory also, Galaxy has 16 GB of internal memory that is far ahead than the 8 GB memory of Radar.
This is mainly because of these plus points that people prefer Galaxy SII over Radar. Though the price of Radar is much lower than the Galaxy SII, still Galaxy SII is a winner.