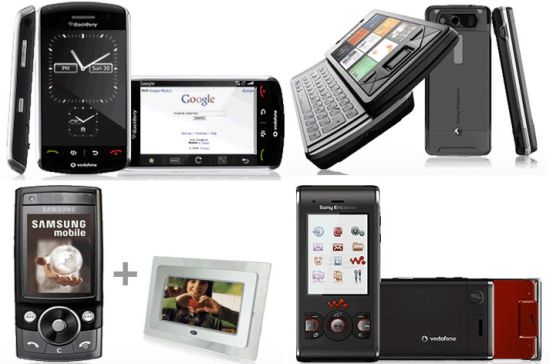 Just in time for the Christmas, Vodafone UK, has something for everyone as they have unveiled 16 exclusive mobile phones, including the new BlackBerry Storm for contract customers, Text Unlimited for all "Pay as you talk" customers, and the Dell Inspiron Mini 9 netbook. They will also be offering a free digital photo frame, worth £50 with purchases of Samsung G600, Nokia 6500 Classic or Sony Ericsson K770i.
The phones in the PAYT section include Sony Ericsson K770i, Sony Ericsson W350, Sony Ericsson W910i Havana Gold, Samsung Steel, Samsung J700, Samsung G600, Samsung Omnia, Nokia 6500 classic, and a range of Vodafone's own mobiles.
The phones in the CONTRACT section include the BlackBerry Storm 9500, Nokia 6210, Nokia N96 16GB, Nokia 6124 Classic, Sony Ericsson 595 Walkman, Sony Ericsson C905, and the Sony Ericsson Xperia. The Dell Inspiron Mini 9 with built-in broadband also comes under this category. The Mini 9 will be offered with an 8GB memory flash drive, a netbook skin in black with red stitching and a cleaning kit for a mere £25.
Ian Shepherd, consumer director for Vodafone UK, said…
This year's Christmas range features a great mix of phones at a price that will please everyone. There really is something for everyone from a stylish low cost mobile in the shape of the VF527 Rainbow to more sophisticated mobiles for avid internet, social network, instant messaging and email users.
That's one cool Christmas line-up. Isn't it?
Via: Vodaphone