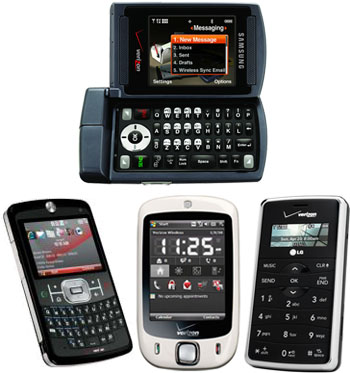 Verizon Wireless today announced quite a lot of new high-end smartphones and consumer QWERTY phones ahead of CTIA Wireless 2008. They have released details of their show collection. Verizon's own version of BlackBerry Curve 8330($270, May 2008) boasts EV-DO, GPS, and microSDHC support.
Verizon's big launch is one of LG enV2 ($130, April) having slimmed down chassis and full QWERTY keyboard. Rest of the features includes a 2 megapixel camera, stereo Bluetooth support, integrated GPS (that works with VZ Navigator), a BREW-based e-mail client, and a microSD memory slot.

HTC XV6900 ($350, April) forces the potential of Windows Mobile 6 Professional (Pocket PC Phone Edition) in an all-touch hardware design. The swipe of a finger is more than enough to navigate with this smartphone. It has a 2.8″ touch-screen, 2-megapixel camera, Bluetooth 2.0 and a built-in speakerphone.
Next comes the Motorola Q9c ($250, April) featuring a high-capacity microSD memory card slot with support for up to 32GB cards, a 1.3-megapixel camera, Windows Mobile 6 Standard and Bluetooth 2.0.
Lastly, the Samsung Alias ($129.99, mid-April) has improved keyboard with high definition colors of the device. So, Verizon is all set to take on CTIA Wireless 2008 with such commendable hand sets to offer.
Source: Intomobile