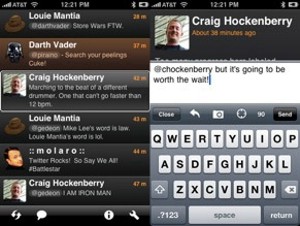 If you are one of those Twitter (social networking and microblogging service) addicts then here's some exciting news for you. Twitterrific (Mac OS client for Twitter) is all set to make itself available for iPhone users with a Mac OS. Tweeting with the Twitterrific user interface is going to be a great pleasure. No more compromising with tiny displays and clumsy user interfaces to use Twitter on the iPhone. Remember the sheer pleasure of working on the Twitterrific user interface on a Mac OS X? It seems Twitterrific is all set to give you the same experience for the iPhone and iPod geeks. Twitterrific is designed with you in mind.
The buttons are arranged in the QWERTY sequence, like on your computer keyboard, to give you maximum typing comfort. Twitterrific takes the trouble of making your most frequently accessed functions more easily available to you. You simply need to double-tap the multi-touch display to access your favorite friend. Simply press a button and the onscreen keyboard pops up for you to compose some chweet tweets for your friends. You can follow embedded hyperlinks with mini-browsers.
Appstore is all set to go live in the next few weeks (July 11th is a day you have to look forward to) and Twitterrific's creator Icon Factory is fine tuning its features. But it seems Twitterrfic will be facing competition from Twinkle and Hahlo especially since the two have already developed UIs for the iPhone. But I think Twitterrific is going to emerge the leader of them all.
via: Intomobile