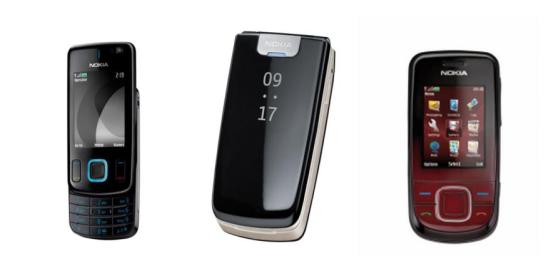 Some good news for the cell phone lovers, and especially so for the Nokia cell phone lovers and believers! This Finnish cell phone manufacturer has brought out three new models for the fashion-fervid users. The Nokia 6600 Fold, the 6600 Slide and 3600 Slide are phones that not only feature-rich but looks quite elegant as well. Now, the time has come for the consumers to be choosy for the money they spend. So, Nokia doesn't wish to loose out on the rapidly growing intelligent market that wants more value fore money.

The Nokia 6600 Fold phone (priced at around £215) has a two mega pixel camera and a beautiful OLED screen with another screen that needs just two soft taps to spring into life. These smart screens can be used to accept or reject calls and switching off alarm bells. The Nokia 6600 Slide (approximately £200) has a 3.2 mega pixel camera and two similar OLED screens with tap controls. The Nokia 3600 Slide (slightly cheaper than the other with price of about £140) is equipped with background noise-cancellation. It has a 3.2 mega pixel camera. All the phones are equipped for Bluetooth GPS modules which can be bought separately.
It is a fact that Nokia cell phones have always gained an upper hand when it comes to functionality, so now they wish to go trendy to retain the customer base while eyeing for more.
Source: Techradar