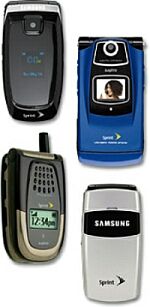 Sprint is all set to introduce four middle-ranged cell phones with the potential to backup and reinstate contacts over the network. All the phones present currently in the market lack the EV-DO high-speed data. Sprint is going to make use of the fact by integrating EV-DO in all its upcoming phones.
The four sets announced include Samsung A640, Sanyo Katana, Sanyo 2400 and Samsung A420. All the four are clamshell handset. Sanyo Katana and Samsung A640 feature a VGA camera.
I hope that Sprint will be reasonable with the price of the handsets as all of these are entry-level cell phones.
Via: TechSavvy