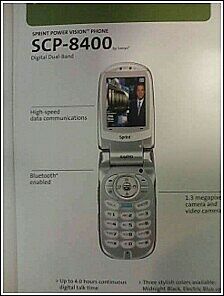 Sprint and Sanyo have once again joined hands to introduce the new SCP-8400, a mid-level CDMA phone. The SCP-8400 is the latest addition to the clamshell series by Sprint. Being bit smaller than its predecessor, MM-9000, the SCP-8400 boast a healthy design.
As expected, it will feature microSD slot to expand memory but the thing that can make a difference is the introduction of Bluetooth in Sanyo phones.
No official announcements about the specifications. The SCP-8400 is likely to be seen at stores by the end of August 2006.