Sony Ericsson F305 is an attractive, low end GSM mobile that has been specifically designed keeping the gaming users in mind. The phone could come in handy for those who love playing games on their mobiles either to while away their time or for a quick refreshment from their daily routine. Unlike the other basic models, F305 comes with a motion sensor and a set of completely dedicated buttons just for gaming.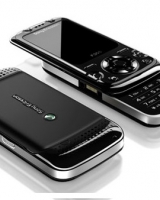 Performance
Like most low end and light mobiles, the phone works like a charm and has no performance issues. The phone supports browsing through GPRS. Browsing speed although slow compliments this mobile cum gaming device very well.The camera is responsive and quick enough to capture all the important moments, which is as expected for any Sony Ericsson camera phone. Sony Ericsson F305 is rated with a stand-by time of 400 hours and talk time of 8 hours, which means that any moderate user could easily keep the phone without charging for at least three days.
Features
F305 has a small TFT screen that supports up to 262K colors with a display resolution of 176 x 220. The 2MP camera is capable of taking quick 1600×1200 pixel photographs and supports video capturing too. The built-in music player plays major multimedia formats like mp3, 3gp and mp4 with ease. The Micro SD slot, that comes with a loaded 512 MB card, can be expanded up to 4 GB and hence could be used to store over 1000 songs easily. Furthermore, you get a FM radio as well so that you don't have to rely only on the songs stored on your memory card for all the entertainment. Being marketed as a gaming device, Sony Ericsson F305 has been provided with 10 pre-installed games, most of which use the motion sensing technology for the game play.
Design
The F305 carries the same usual look that all Sony Ericson Slide mobiles have, except the fact that this phone has few extra buttons that are totally dedicated for gaming. One could easily compare it with a SE walkman series phone's where you had those extra buttons dedicated for the music player. The screen looks rather small for a mobile that has been designed with gaming in mind. For a mobile as sleek and small as F305, it is only natural to find texting a little difficult unless one has small fingers that could easily move on the tiny
Bottomline
Considering all the features, pros and cos of the Sony Ericsson F305 it is only obvious that, although the offer is attractive for the price tag it carries, the phone is suitable only for those who desire a simple phone with a little affinity towards mobile gaming. Avid gamers would, perhaps, find Sony Ericsson F305 as a rather disappointing gaming device and for those who wish for a little more flamboyance, this is just another phone to avoid.