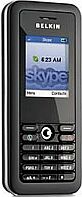 What could be the best thing other than making a call for free? Well, Belkin has rolled out a Skype Wi-Fi phone that allows free unlimited calls without being connected to a PC. All it needs is the wireless network.
Even if you are calling outside the network, the call rates would be quite cheaper. The phone boasts WEP, WPA and WPA2 with PSK technology to access your personal network.
Skype Wi-Fi phone will be on sale on amazon after August, 31 for a sheer price of $179 only.
Via: Coolestgadgets