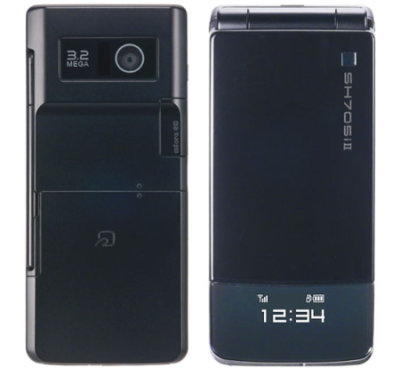 In keeping with the tradition of introducing quality products to meet the requirements of its consumers, Sharp has come up with its latest mobile phone, the FOMA SH705iII. This terminal shaped mobile phone is equipped with the TV tuner lending it a grace of its own. This phone is open for sale exclusively along with the Japanese operator NTT Do Co Mo.
FOMA SH705iII possesses some really incredible features, such as; it's specifically articulated to support the bandwidth of 1.7 GHz that makes it compatible to 3G international roaming. It weighs 106 grams and measures up to 106 x 48 x 16.1 millimeter. It has a 2.8 inch screen with up to 262,000 colors, 3.2 MegaPixel camera with autofocus, and a screen resolution of 400 x 240 Pixels for great image clarity. Having an external monochromatic OLED display and a 96 x 39 pixels resolution makes it a gem of a product. The mobile has an inbuilt slot or micro SD memory cards. The mobile possesses 175 minutes talk time and it can run for 2 hours in TV mode.
No word regarding its marketing outside Japan. We have to wait and see how much attention does this product draw from the masses.
Source: Tecmoviles