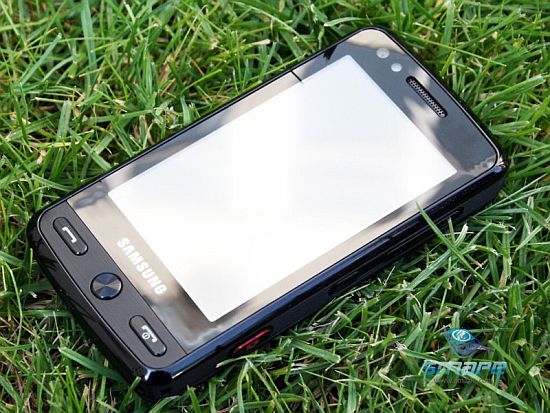 Target consumers: Not strictly for smartphone users but for those who would love an advanced camera on their cell phone.
Should they buy it? Yes
Why? Although not a smartphone in the strictest sense of the term, but the Samsung M8800 Bresson or Pixon as it is called has taken the camera of a cell phone to a completely new dimension. Pixon's camera is equipped with all the advanced latest features churned out in the digital world. The 8-megapixel resolution makes pictures snapped with it favorably comparable to images taken with digital cameras. Moreover, the camera has auto focus, face recognition, smile and blink detection technology enabling the camera to adjust automatically according to physical changes of the subject. Wide dynamic range, advanced shake reduction and geo-tagging via the GPS receiver adds versatility to the device. Samsung M8800 is one of the best camera phones in the market.
Technical Specifications: The lack of a physical keyboard of the device with 3.2-inch touchscreen is compensated by the landscape virtual QWERTY keyboard. The built-in GPS receiver acts as a road guide besides helping in geo-tagging of images snapped with the 8MP camera. The FM radio with RDS and DivX playback, allows seamless music while handwriting recognition feature ensures that no one tampers with the phone's security. Accelerometer, microSD card slot, Bluetooth, ShoZu integration for direct image and video upload, make Samsung M8800 all the more impressive.
Pricing & Availability: Samsung M8800 will be available from early November and will cost $800.
What others are saying? Samir Makwana of Techtree writes
Barely had Samsung's Omnia (SGH i900) joined the League of Touchscreen Phones, that a Samsung sibling with an 8-megapixel camera is heard knock, knocking on the club's doors.
According to Ubergizmo
…a full touch screen handset that looks set to challenge the LG Renoir for position of top jock.
Unwired View observes
While Samsung M8800 Bresson looks like a really cool cameraphone, it misses a couple of things that, I think, any high end handset should have these days – Wi-Fi connectivity and GPS.