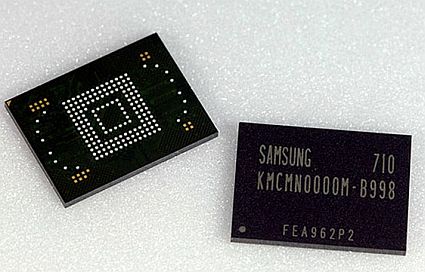 Mobile makers who will use the new Samsung's new memory solutions dubbed moviNAND can develop mobile phones more quickly and at less cost than with raw MLC NAND components soldered into a handset.
The high-density moviNAND includes four 50-nanometer, 16Gigabit NAND flash memories, a high-speed MultiMediaCard (MMC) controller and associated firmware. Samsung says that the moviNAND is able to 'store up to 2,000 songs or enough map data to implement global positioning system (GPS) and points of interest for the entire western world.'
Moreover, the moviNAND will be much smaller than the existing entrenched flash cards. The new moviNAND has also been claimed to 'processes data at 52 megabytes per second, using the industry's fastest multimedia card interface.'
The 8GB moviNAND version is expected to hot the shelves in Q2 this year.
Via: Nextlust