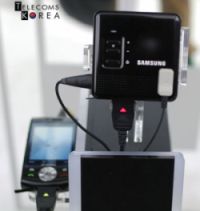 Viewing content on the screen of a cell phone can often be pathetic. Any given day you'd trade those smallish projections for a large screen viewing experience. Samsung recognizes this and has come up with an accessory that would surely be a great hit.
Hitting South Korean shelves in March, MBP-100 from Samsung is a mini projector tailor-made for cell phones. It is capable of casting a display of up to 20-inches from cell phones. Connect this to a smartphone and you're all set to view contents on a large screen. View videos, play games or make business presentations, the MBP-100 will handle all neatly.

Hopefully Korean release would soon pave the way for global go ahead. Till then you're stuck with lame ass 3-inch viewing.