Though the markets are flooded by high-end smartphones, there is still a great demand for low-end phones that offer the basic function of calling and few other things. Samsung Guru E1085T belongs to this category and aims to cater to the needs of its audiences. Samsung Guru aims at providing a decent set of features at a budget price. Simplicity is the key for this category of phones and that is what Guru tries to accomplish.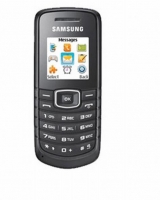 Performance
Despite the fact that it is a budget phone, Guru has a dynamic sound quality that most of its counterparts lack. You can continue listening to your music while working on other applications, which is a big plus. The call quality is good and there are no noises or audibility related issues with the phone. Its 800mAh Li-ion gives you a talk time of 9 hours and a standby time of up to 560 hours. The torch accompanying the phone can be lit-up to 40 hours, something you'll admire once the electricity in your house ditches you. 
Features
The GSM supporting bar phone features a 1.43-inches screen, which is good enough to help you see things even in the bright daylight. Even at a budget price, it doesn't compromise with the connectivity features providing GPRS and EDGE that would help you stay connected. You can access your mails and browse over the Internet at a budget price. It also comes with a USB cord to help you exchange data with other compatible devices. It comes with 1 MB of in-built memory that helps you store 200 contacts and 100 messages at a time. You can tune into FM radio for latest news or entertainment. Another useful feature is the torchlight that offers enough brightness in dark.
Besides these, the handset has a number of smart features that help it stand apart from the crowd. It offers 40 polyphonic ringtones that you can assign to different callers. It comes with Mobile Tracker that alerts you as soon as the SIM card of your phone is changed. It helps you delete all your contacts, calls and messages from your phone by sending a standard message. It also has the Fake Call function in case you want to get busy with a fake call. In case you have problems of not being able to notice lengthy calls, you can set a call time limit after which an alarm reminds you of it. A Call Manager keeps track of your call costs and duration. Power Saving Mode turns off your phone when not in use and increases the battery life. It comes with 800mAh battery, which is more than enough for your daily needs.
Design
Guru E1085T comes with a compact and robust bar design with the overall dimensions of 107.4 x 45.5 x 13.6mm. It feels sturdy enough in the hand and is light enough weighing at 64.5g. It has an ergonomic grip and is slim enough at 13.6mm, which means it easily fits in your pocket. The 1.43-inches CSTN LCD with display resolution of 128 x 128 pixels is bright enough to help you toggle between different menus even during the bright daylight. You can go to different applications through the navigation key placed just below the screen.
Bottomline
With a nice form factor and an impressive set of features, Samsung Guru E1085T is one of the best phones at a budget price. It offers dynamic sound quality, better connectivity features and a number of smart features such as Mobile Tracker, Fake Call function, Cal Manager and Power Saving Mode, even though it is not a smartphone. You might miss the camera, but it is not much you're missing at this price range.