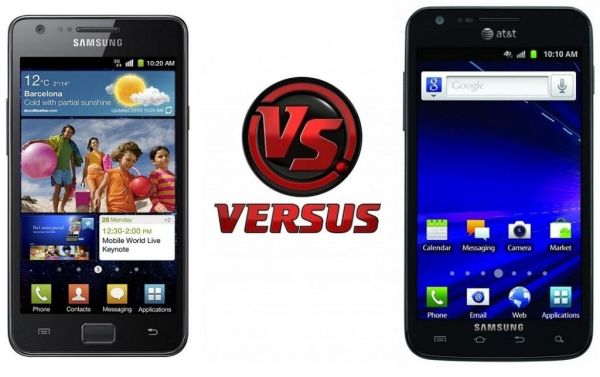 The challenge
We have two AT&T Samsung smartphones for a comparison here. The phones are Samsung Galaxy S II and Galaxy S II Skyrocket, one of Galaxy S II variants. Though part of Galaxy S II series, the phones are different in many aspects. Indeed, they have different processors, screen sizes, dimensions, battery and many others. AT&T unveiled Galaxy S II on October 2. The Skyrocket appeared on the carrier just a month after. Now customers have two Galaxy S II variants on the leading carrier of U.S. This comparison will help you solve the confusion over selecting one phone from Galaxy S II and Galaxy S II Skyrocket on AT&T.
Comparison Attributes
Form Factor
Samsung Galaxy S II is up with the dimensions of 125.3 x 66.1 x 8.5 mm. Meanwhile, Galaxy S II Skyrocket has the dimensions of 129.8 x 68.8 x 9.5 mm. That means the former one is slightly smaller than its Samsung counterpart. Indeed, those who want small devices will be going for Galaxy S II over Skyrocket.
Winner: Samsung Galaxy S II
Processor
Galaxy S II sports a 1.2 GHz dual core ARM Cortex A9 processor along with Samsung's Exynos 4210 chip. The device gets graphical power from ARM Mali 400 MP. Samsung has kept up the same specs on Skyrocket, but the clocking speed is boosted to 1.5 GHz for better performance.
Winner: Galaxy S II Skyrocket
Operating System
Galaxy S II runs on Android 2.3.3 Gingerbread, while Skyrocket has Android 2.3.4. There are actually no differences between the two versions of Gingerbread except some security fixes and improvements. Talking about Android 4.0 Ice Cream Sandwich update, Galaxy S II will be getting the new Android firmware before Skyrocket.
Winner: No winner.
Display Screen
The next major difference between the Galaxy S II phones is in their screen sizes. Galaxy S II has a 4.3-inch display, while its counterpart features a bit larger 4.5-inch display. However, both devices highlight the same pixel resolution of 800 x 480 and features like Gorilla Glass, multitouch input, accelerometer and proximity sensor.
Winner: It depends on users. We have two screen sizes with the same specs. So users can decide whether they want a 4.3-inch or 4.5-inch display for their phone.
Camera
It is here Galaxy S II and Galaxy S II Skyrocket have really matching features. The devices sport an 8-megapixel rear camera with autofocus and LED flash. The cameras can capture video at 1080p HD at 30fps. They also have 2 megapixel front cameras for video chatting. Of course, the phones have the best cameras in the industry. Only iPhone 4S has the camera capable to defy the new Galaxy S II phones.
Winner: No winner.
Battery
Both devices have different batteries to get 8 hours of talk time. Galaxy S II mounts a Li-ion 1650 mAh battery, while its counterpart has Li-ion 1850 mAh battery. However, they have the same battery life.
Winner: No winner.
Memory
We have two internal memory options for Galaxy S II; a 16GB and 32GB. On Galaxy S II Skyrocket, there is only one internal memory option at 16GB. However, both devices feature microSD card slots that support 32GB of external memory. The phones are powered by 1GB of RAM.
Winner: Samsung Galaxy S II.
Ultimate Winner
There is really no an ultimate winner in this comparison. Both devices are made with two screen sizes aiming at different customers. They run on the same operating system and have many matching features especially with camera, battery life and others.
The verdict
Samsung used to launch various versions for its leading phones. Galaxy S II has diverse versions for all carriers in the U.S. AT&T has now received two versions of the phone with slight differences in tech specs. The question which is of Galaxy S II and Galaxy S II Skyrocket is best is pointless, however. The devices have many matching specs and they run on the same software. Users can differ in their decisions considering whether they want a 4.3-inch or 4.5-inch displays and better processing speed.