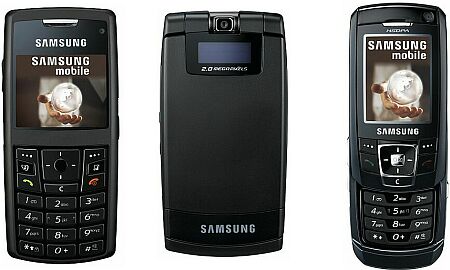 I thought Samsung was busy releasing its special edition cell phones but I was wrong. Samsung, in France, has announced three new handsets for its Ultra Edition range. The 3G phones include SGH-Z720 slider phone, SGH-Z620 folder phone and SGH-Z370 candybar-styled handset.
The new HSDPA 'enabled Samsung SGH-Z720 comes integrated with a 3Mpix camera, 1.9-inch TFT LCD screen and an extra camera for video calling. The 13.8mm slider phone also features a document viewer, voice memo and PIM capability.
At mere 11.8mm thick, the Samsung SGH-Z620 takes away the title of world's slimmest device boasting 3.5G standard. It features a swiveling 2Mpix camera for images and video calling along with a 2.3-inch TFT display.
Wow! The SGH-Z370 weighs just 71 grams and packs all its features including 1.9-inch TFT display, 2Mpix camera, microSD memory expansion slot, PIM functions and Java support in a sleek body that is 8.4mm thick.
Well, there is no info about the pricing and availability of the three handsets.