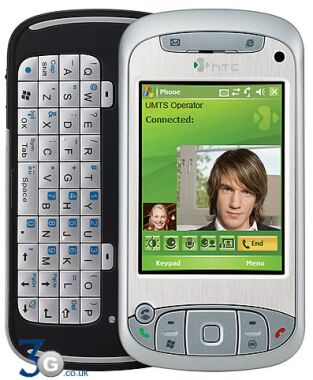 The leading wireless carrier in Canada, Rogers Wireless and the world's leading provider of Microsoft Windows Mobile based smart devices, High Tech Computer Corp (HTC) have launched the HTC TyTN, a Windows Mobile 5 Pocket PC, which is featured with Tri-Band HSDPA, Quad Band Edge, and a slide-out QWERTY keypad.
The HTC TyTN is complete 'office-in-your-pocket' solution, which is good combination of functionality and connectivity. The TyTN is featured with stylish slide-out QWERTY keypad and 2.8-inch touch screen LCD display. The TyTN offers voice and data capabilities, which allows users to easily stay connected. The features of The HTC TyTN Pocket PC are given below:
1) Microsoft Windows Mobile 5.0 with Messaging and Security Feature Pack
2) High speed Internet with worldwide 3G (HSDPA enabled, EDGE, GPRS and GSM)
3) Push e-mail (direct push technology)
4) Easy to use calendar that synchs wirelessly to your PC for real-time scheduling
5) 2-megapixel camera and a microSD slot
6) Synchronized music and pictures for easy playback and management.
7) Jog Wheel for easy one-hand operation
8) Tri-Band HSDPA, Quad Band EDGE, Bluetooth 2.0 and Wi-Fi 802.11
9) 128 MB of ROM, 64MB of RAM
The device is good option for businesses executives, who need all-in-one reliable device to synchronize their calendars. It allows users to download music and pictures to an SD card for friends.
Todd Achilles, vice president of HTC America, said,
The HTC TyTN builds upon what consumers already love about HTC, representing a truly powerful mobile office solution with proven success in the United States, Europe and Asia. Rogers Wireless customers will appreciate the advanced connectivity that works all over the world.
Image Credit: 3G
Via: Earth Times