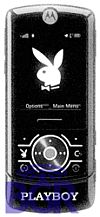 We have seen phones from Prada and Porsche and this time, it's Playboy that is being rumored to be developing a sexy new phone. Sounds funny! or sexy? The company is said to be in talks with Motorola, Siemens, and LG. But, what the hell this sexy Playboy phone will offer to the customers?
How about having 'ringmoans' instead of the ringtones and free calls to sexy chat line operators? Anyway, I expect it to come equipped with atleast Bluetooth, a camera, and MP3 playback. It is said to be coming with famous bunny-with-a-bowtie logo. The only things, which we know, are that this sexy phone will be glossy and upscale.
Will it come loaded with some videos of hot chicks or an album of naked ladies? Might be a treat for porn lovers!
via: BlogSciFi