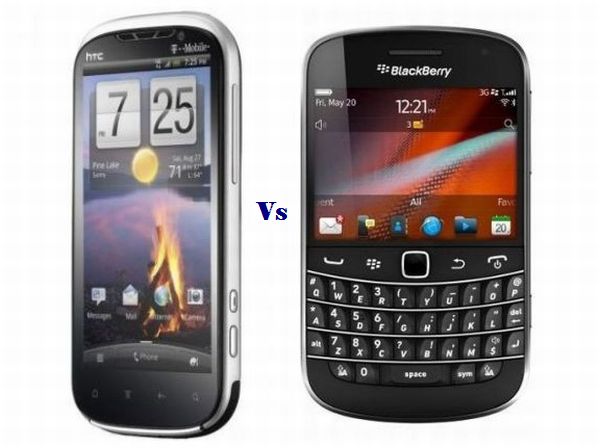 As BlackBerry launches Bold 9900 in August 2011, HTC brings you Amaze 4G in October 2011, lets uncomplicate your buying experience. The very sleek and stylish Bold 9900 weighs just about 130g giving you an amazing feeling as you hold and connect to the world. Standing tall at just 10.5mm, Bold 9900 is as luxurious and solid as a BMW. Add the wonderfully assembled 5MP camera with LED flash, this phone takes some stunning pictures to cherish later. Touch as you like or just type on the keypad, Bold 9900 gives you the freedom of choosing your navigation as per your convenience.
Amaze 4G on the other hand weighs slightly heavier than Bold 9900 with 173g. The curvy metal finish body of Amaze 4G gives you a better grip making it look slender and incredible. The 8MP excellent camera sports at the back of the Amaze 4G and delivers detailed pictures that show best on the very large 4.3-inch screen. Though BlackBerry Bold 9900 show you images and videos on 2.8-inch screen, here Amaze 4G wins hands down. The full touch body gives you ample space to maneuver and navigate seamlessly.
Blackberry Bold 9900 runs on a 1.2GHz CPU speed giving you decent speed to run your applications and media files. There have battery problems in all of BlackBerry models and Bold 9900 features 1230 mAh battery capacity, seems like this model is no different. Furthermore the BlackBerry OS 7 spreads some hope that make a difference in the operating life and fun.
Amaze 4G leaves no scope to impress you, the 1.5GHz dual core processor makes multi-tasking between applications and files a breeze. Featuring a battery capacity of 1730 mAh, Amaze 4G runs long and endless with its powerful battery. Android 2.3.4 makes sure operating Amaze 4G is easy, quick and very simple. Considering battery power, processing speed and Operating System, Amaze 4G stands a level higher than BlackBerry Bold 9900.
The 768 MB of RAM installed in BlackBerry Bold 9900 combines with 8 GB of internal memory providing you with enough power to store and run large files. The card slot of this phone allows microSD card up to 32GB to enjoy thousands of songs and hundreds of movies.
1GB RAM memory installed in Amaze 4G gives a little more edge than Bold 9900. Internal memory of 16 GB which is double the memory of Bold 9900 makes Amaze 4G a choice to reckon with. Amaze 4G also accepts microSD card slot up to 32 GB letting you experience entertainment on the go without any compromise. Well, it looks like Amaze 4G has take over Bold 9900 in the fight to give internal space.
The blazing internet speed that Amaze 4G offers you absolutely cannot be compared with the 2G/3G network offered by Bold 9900. If we talk about the typing comfort, Bold 9900 seems to be the best phone produced by BlackBerry as it gives airy and spacey keypad for easy typing. Whereas, Amaze 4G needs to be held horizontally for QWERTY typing making chatting and emailing a slightly difficult job. Having the speakers placed on the back of Amaze 4G phone invites a bit of trouble as the sound is not heard when kept on a bed. Bold 9900 places speakers on the top with the music playback buttons increasing audibility of the sound and thus delivering louder audio.
The separate buttons for camera and video recording in Amaze 4G phone makes shooting and taking pictures a convenient option. In Bold 9900 you can choose a convenient option to set the camera button either on the right hand side button or the left hand side one.
Winner
Finally, BlackBerry Bold 9900 lets you have the ultimate experience in smartphone category while Amaze 4G has its own thrilling experience with its touchscreen display and striking visuals. BlackBerry certainly poses to be able to compare with luxury sedans like BMW and Audi, as against Amaze 4G that could stand proudly in comparison to the fighter Jet plane that looks sophisticated and absolutely hi-tech. Just like the comparison above is enough to declare the winner, Amaze 4G wins hands down against BlackBerry Bold 9900.
Cool Android apps preloaded in Amaze 4G like Gmail, Google Places, Android Market, Google Maps, YouTube and Google Maps navigation makes life simple and exciting. The lightening fast 4G network takes you through the web world way faster than on home network.