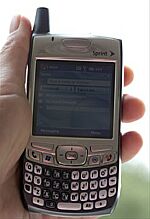 Finally, the rumored Palm Treo 700wx has been announced by Sprint. If we take a look at the designing part, it looks very much similar to the Treo 700w that was carried by Verizon. The key features of the Palm Treo 700wx are:
*Windows Mobile 5.0 Pocket PC.
*XScale 312MHz CPU.
*128MB NVRAM.
*Dual-band EV-DO / 1xRTT.
*1.3 megapixel camera and Bluetooth 1.2.
*QWERTY keyboard.
The Treo 700wx is being offered for a price of $499.99 after an instant rebate of $150 and a 2-year service agreement.
Via: SlashGear