Nokia, one of the leading brands in the mobile manufacturing industry, has failed to hit the market for the last few years. However, it is trying its best to make a comeback with its Lumia series. The latest device launched in this series is Lumia 900. It has Windows operating system 7.5, which has been nicely coupled with an awesome design, excellent hardware and high quality software. The device has been made in collaboration with Microsoft and has the potential to challenge the dominance of both Apple as well as Google in the USA smartphone market.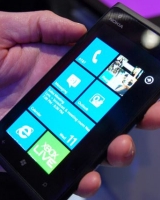 Performance
The phone is not yet released and we can't really comment on it pre release.  However, we have already seen the superb performance of Lumia 800 and this phone with same processing speed of 1.4 GHz and improved functionality is expected to rock even more.
Features
Nokia Lumia 900 has a 4.3 inch display with a resolution of 800 pixels height and 480 pixels width, which further supports 16 million colors and a clear black display technology. The processor execution speed of 1.4 GHz is really fast. The operating system is the latest Microsoft Windows Phone 7.5. It has 16 GB of internal memory storage and 512 MB RAM. The super fast Qualcomm APQ8055 snapdragon chip set provides best multimedia interface system. However, no expandable memory slot is available for expanding the memory, but with SkyDrive cloud storage, the expansion is not required.
Design
Nokia Lumia 900 takes its design inspiration from the creative design of Lumia 800. However, you'd find several improved features like 4.3″ Clear Black AMOLED display and much more. Lumia 900 is similar to N9 and Lumia 800 in its design as it is crafted with the same 0.45 mm thin polycarbonate body. The material is very strong, good to hold and firm.
Bottomline
The Nokia Lumia 900 shall be a heavy hitting Windows Phone that boasts a high quality camera and updated OS. All in all, the new Nokia Lumia 900 promises to be a very good phone indeed. Even those, who avoided Nokia because of the low-end Symbian operating system, can consider this Windows Phone. As far as the camera is concerned, it is always on Nokia's plus side and this model is no exception. The battery is also another advantage as it has a whopping 2G talk time of 7 hours and GSM stand-by time of 300 hours. With its updated applications for business use, the phone will be especially of great advantage to businessmen.