Nokia left Symbian with this phone and entered the Windows 7.5 realm. The whole body of this phone is made in single piece out of polycarbonate plastic and has a gorilla glass display. Under the hood the phone has a blazing 1.4 Ghz processor "MSM8255 Snapdragon". The phone features an 8 MP camera with f2.2 and an LED flash. The camera is super bright and enables to record videos in 720p with 30 frames per second. Lumia 800 has a 3.7 clear black AMOLED screen. This phone also has a 16 GB of internal memory and a 512 MB RAM for fast processing.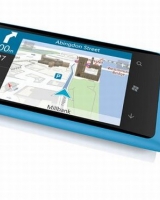 Performance
Windows 7.5 mango is an efficient OS which works great along with only 1Ghz of clock speed. The phone runs smoothly and you would hardly experience any slowdown in app access. The call quality is good on one side and average on the other. What this means is the reception of call was average while the quality for listener on the other side was crisp and clear. The loudspeaker also delivers great audio output for calls and multimedia as well. The speakers are not blocked even when the phone is placed on a flat surface.
Features
Nokia Lumia 800 runs on Microsoft Windows Phone 7.5 Mango using 1.4 Ghz Qualcomm MSM8255 Snapdragon as processor. It has an 8 MP camera which can shoot videos in 720p. Lumia is a 3g enabled phone that supports HSPA+">HSPA upload and download speeds. It has a Clear Black AMOLED display with Gorilla glass for high contrast and spectacular colors
Design
The AMOLED display of the device looks stunning with gorilla glass; however it is not the best by Nokia. High quality polycarbonate enclosure gives a hint of Nokia N9 with a few alterations like a physical camera button and a relocated flash. The camera lens with f2.2 is made by Carl Zeiss. On the right side of phone we have volume rocker control and the camera button.
Bottomline
Overall the Nokia Lumia 800 features a great body design with sleek appearance. The touchscreen display on the phone is great but the camera quality is a detractor. The phone features windows 7.5 mango which is better than symbian platform used in Nokia N8. This phones looks like a variant of Nokia N9. If they could add a front facing camera the sales would have been more.