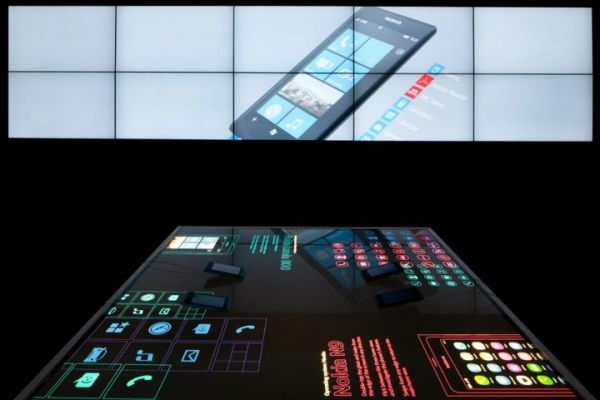 Overview
A few Nokia phones including the Nokia N9, Nokia Lumia 800 and one more Nokia phone that we've never seen before have been displayed at the Design Museum in Shad, Thames. The new phone is speculated to be Nokia Ace Windows Phone.The Ace appears very sleek and thin, with a very large screen and three small buttons very nicely placed at the bottom of the main screen. The new feature what we can see here is the buttons on the main screen disappears when all the lights are off. This is one of the high-end Windows based phones in the market from Nokia. As per the rumors, this Nokia Ace is supposed to come up in the market by the first quarter of 2012. As of now there is no official release by Nokia in any part of the world, however, if this phone really exists, early next year it will be officially launched and all of us will come to know how special this Windows Phone will look like. It is also rumored that this phone will first arrive at AT&T by the first quarter of 2012.
Pricing and availability
It is rumored that Nokia this time is trying to target mid-level market along with the enterprise-level market with regards to Windows Phone.
The most expected features are:
1. 4.3-inch Display
2. Large battery of 1800 mAh
3. 8MP camera
4. 1GB RAM
5. Carl Zeiss lenses
6. Processor of 1.4 Ghz
7. 16 or 32 GB internal memory
The above mentioned highly featured mobile makes Nokia Ace stand differently in the race of all Windows based smartphones in the current mobile industry.
What's great?
Ever since the Nokia focused on the fastest growing industry of telecommunication, it has got good name and became more popular in most of the countries. Due to Nokia's flexible pricing, it has reached all the markets (low pricing market, mid pricing market and high pricing market). The best part of Nokia is maintaining the quality of product adequately right from low range mobiles to high range mobiles. It is very challenging in current competitive market to reduce down the price without compromising the quality of product and Nokia has won the game by proving it to the market.
It is believed that Microsoft is working on its advanced competitors like Android and Apple with regards to mobile applications. The windows app store will be providing many innovative and attractive apps for several purposes. As Microsoft's development team has proved their expertise in computer industry by developing different applications on windows platform, it is rumored that they will prove the same in mobile market and try to raise the expectations of mobile users.
What's not so great?
Appearance of this phone seems to be real sleek. It appears very thin and three little buttons at bottom which disappears while lights are off makes the difference. It doesn't seem to be much difference between Nokia Ace and Nokia Lumia's apart from larger screen. However, one thing is definite that it is going to bring some changes in the market. The pleasure is to wait and watch what difference and changes Nokia Ace could bring in current windows phone market.
Things to watch out for
Everyone knows that the world's most used computer based operating system is Windows. There are many other operating systems available in the computer market, however, in most parts of the world people got addicted to Windows platform just because it is very user-friendly. Every single office and home users opt for Windows being the world's most user-friendly operating system. Now as Nokia has planned to jump in the mobile market with Windows operating system, rumors are going on that in the battle against Google Android and Apple iOS, Nokia Ace is going to win by bringing new innovations in the mobile industry.
Verdict
It is rumored that Nokia is going to launch this Windows Phone in the first quarter of 2012 on AT&T. Nothing is certain as of now as to when it is planning to release it in other countries. Looking at the image released on the Nokia's blog, many people liked the large screen size of it and the thickness it has with a rich look with black finishing.