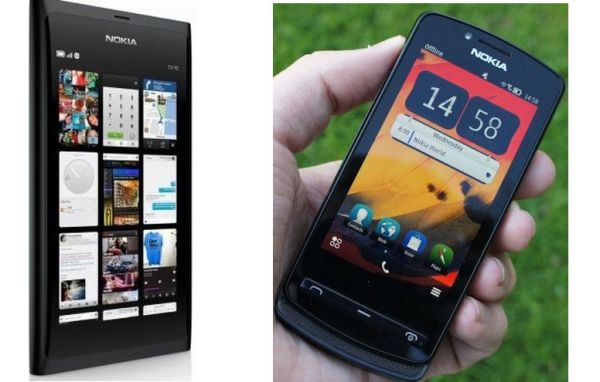 Nokia, the world's largest cellphone manufacturer has come a long way in their smartphone segment from their first smartphone Nokia 9000 to Nokia N9, with OS from GEOS 3.0 in Nokia 9000 to MeeGo 1.2 Harmattan In Nokia N9, with cutting edge technology like Near Field Communication (NFC); Nokia has evolved their communication to a whole new level.
The challenge
Nokia N9 was announced on June 2011 while Nokia 700 was announced on August 2011 and both the products are available from September 2011. Both the products are from the same manufacturer, Nokia makes the brand name factor trivial. But there are lots of other attributes to consider such as, the size and weight, design and UI, hardware and software, photography and navigation.
Comparison attributes
Screen size
Nokia N9 has 3.9″ ClearBlack AMOLED Gorilla glass display with anti-glare polarizer and a resolution of 480 x 854 pixels while Nokia 700 has 3.2″ ClearBlack AMOLED Gorilla glass display with a resolution of 360 x 640 pixels. Nokia N9 has ~251 ppi and Nokia 700 has ~229 ppi which indicates that Nokia N9 has ~10 percent more sharper display.
Software
The Nokia N9 is powered by 1 GHz Cortex A8 CPU with 1GB RAM and runs on MeeGo 1.2 Harmattan while Nokia 700 is powered by 1 GHz ARM11 processor with 512MB RAM and runs on Symbian Belle platform. Nokia N9 is faster than Nokia 700 due to its processing power and RAM but Nokia 700 running on symbian platform has the upper hand in software and applications as there are plenty options out there. Nokia N9 running on MeeGo has a limited options for application and software.
Camera
The Nokia N9 comes with an 8 megapixel camera with Carl Zeiss optics with wide angle lens, large lens aperture for faster and better photos even in low light conditions. The camera comes with dual LED flash, digital shutter and continuous autofocus with focal length varying from 3.77 mm to 28 mm and it can record 720p HD videos at 30 fps. On the other hand Nokia 700 comes with a 5 megapixel camera optics with face recognition software. The camera comes with third generation LED flash with fixed full focus with focal length 4.3mm and it can also record 720p HD videos at 30fps. Of the two phones, Nokia N9 has better optics, more in depth picture with 8mp carl zeiss lens, better flash and camera settings.
Target audience
The Nokia N9 comes with 16 Gb or 32 Gb as internal memory whereas Nokia 700 comes with 2Gb internal memory. There is no memory slot for Nokia N9 but Nokia 700 comes with a slot for a support for up to 32 GB with an external microSD memory card.
The dimensions of Nokia N9 are 116.5 x 61.2 x 12.1 mm while that of Nokia 700 are 110 x 50.7 x 9.7 mm, which makes Nokia N9 heavier by about 39g as Nokia 700 weighs 96 g and Nokia N9 135 g. Nokia N9 comes with Dolby headphone for boosting your music experience with headphones which is absent in Nokia 700. Both the phones are NFC, Wi-Fi enabled. Nokia 700 has bluetooth 3.0 but Nokia N9 uses bluetooth 2.1 with EDR which is much slower than Nokia 700.
Nokia N9 has a 1450 mAh li-ion battery while Nokia 700 has 1080 mAh li-ion battery. Nokia N9 has a talk time of 11 hours in 2G and 6.5 hours in 3G with a standby time of 16 days while Nokia has a talktime of 7.2 hours in 2G and 4.5 hours in 3G with a standby time of 19.4 days. Nokia N9 has more battery life than Nokia 700.
Nokia N9 and Nokia 700 are both powered by 1Ghz processor but Nokia N9 has double the Random Access Memory than that of Nokia 700 which makes Nokia N9 a lot faster than Nokia 700.
Nokia N9 is available in only 3 colors Black, Cyan, Magenta while Nokia 700 is available in 5 colors Silver white, Cool Grey, Peacock Blue, Coral Red, and Purple. Nokia 700 provides lots of colors to choose from.
The verdict
The Nokia N9 is priced around $ 677. The price of Nokia 700 is $ 372. Both the phones are equipped with many features yet there are some features one should look up before getting a smartphone. Considering attributes like screen size, display, camera, battery life, software, music and sound, Nokia N9 seems to have the upper hand. But if you consider price, applications, and bluetooth connectivity Nokia 700 seems to have the upper hand. All in all Nokia N9 is much better phone than Nokia 700.