Nokia 5030 XpressRadio is a handset with special FM radio capabilities. Different from most lower-end radio handsets, the Nokia 5030 mounts built-in FM antenna. That means users won't have to plug in the headset to act as a radio antenna. Moreover, it touts one-touch radio control keys and a rear panel with the classic radio design. Amazingly, you can listen to radio continuously for 24 hours without recharging. This candybar celphone from Nokia is a wonderful pick not only for radio enthusiasts, but also for those who want a handy Nokia phone with all necessary features.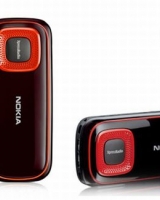 Performance
This tiny handset does well in its overall performance. From processing to battery life, the 5030 offers a commendable performance. The built-in battery promises talk time for 10 hours and standby for 525 hours on a single recharge. If you use the phone only for listening to FM radio, which is its landmark feature, it will run for 24 hours without recharging. Nokia has done a good job in making the 5030 XpressRadio such a power efficient handset.
Features
Nokia 5030 XpressRadio sports a 1.8-inch TFT display with the moderate resolution of 128 x 160 pixels. The display supports 65 million colors. However, it is a lower end screen and so colors often appear faded and not bright enough. The handset has a good interface that will help users to operate it at ease. The five way navigation keys simplify navigation on the device. Well, users can enjoy a pleasant experience in handling this small and cute handset.
It is a 2G handset and supports GSM 900/1800 and GSM 850/1900 networks. Sadly enough, this radio phone doesn't have any network connectivity options. Hence, customers can only use the handset to make calls and to listen to FM radio. For making calls, the phone has a variety of features like automatic answer, hands-free speakerphone, call timer, speed dialing, call waiting, conference calling etc. There are some SMS good features also on the device.
Other noteworthy features of the handset contain contacts, analog/digital clock, countdown timer, calculator, stopwatch, reminders, spreadsheet, converter and much more. Moreover, the handset packs a pick of games that include the popular items like Snake Xenzia, Sudoku, Beach Rally and others. Phonebook of Nokia 5030 can store up to 500 entries and its call log can record 20 dialed, 20 received and 20 missed calls.
Design
Nokia 5030 XpressRadio flaunts a candybar form factor. The tiny handset measures in 108 x 45 x 15mm and weighs at just 82 grams. With its candy form factor, the phone features rounded edges so that users can easily slip it into their pockets. Well, users won't feel of carrying a handset as it will rest comfortably in pockets or handbags. The Nokia phone also looks good. The red rim on the front part adds to the beauty of the small Nokia handset.
Bottomline
Nokia has been the leader of feature phone market for a while. The company could make a huge impact in the industry with a swarm of mid-range and small products. The Nokia 5030 is one of such handsets. The company wanted to tempt FM radio fans to this phone with the feature. Nokia sells the 5030 for an affordable price across the world. In India, it is priced around Rs. 1600. Key global markets even sell the unlocked version of the handset for a price below $100. Get ready to buy a piece of the FM radio phone to enjoy great music over FM channels.