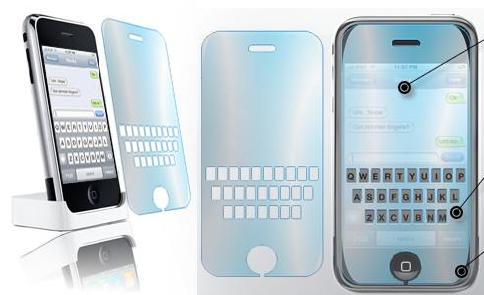 iPhone has often been criticized fir it's on-screen keyboard. Primarily due to the reason that on-screen keyboard can never be as good as a real keyboard and it is always prone to typos.
Well, Ruddy Urgate got so irritated of the typos that he ended up designing My Touch Keys. It's a screen protector with cu-outs for the iPhone's QWERTY on-screen keyboard. It is made up of a transparent screen protector and attaches itself to iPhone's screen using the static (as with any other screen protector).
Cut-outs on 'My Touch Keys' makes it easier to type without making typos. It is totally transparent (though in images it is shown with blue tint) and manufacturers claim that it won't create any problems while watching videos or using multi-touch feature.
If you are a SMS/E-Mail junkie then you'll sure love this. It is available in a pack of two and that too for only $7.99 ($4 per piece).
Via: iPhoneBuzz