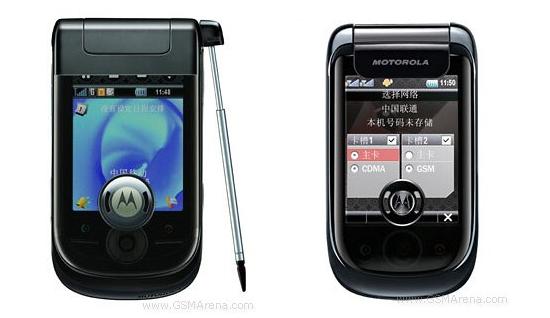 March saw leaks of two MING devices and now both of them are official, though Motorola didn't make any fuss about it. Motorola MING A1600 and A1800 are successors of the good old business phone A1200. Just like their predecessor A1600 and A1800 they too run on Linux OS, have a touchscreen which can be operated easily by stylus and are covered by active plastic cover.
MOTOMING A1600 and A1800 are almost identical smartphones with same basic features. The only difference between two is that A1600 supports quad-band GSM/GPRS/EDGE network (no 3G) whereas, A1800 is a dual SIM phone that supports both CDMA (1x standard) and GSM (no EDGE or 3G) networks.
Other than that, both A1600 and A1800 features 2.4" 262K QVGA touchscreen, 3 MP camera, MicroSD card slot, FM Radio, stereo Bluetooth (A2DP) and built in GPS. And sadly there's no Wi-FI, which is nowadays a must have feature for business phones.
It is noteworthy that A1600 is the first camera mobile that features continuous autofocus. It also features a mode that allows taking multiple images and then saving them as an animated GIF. Just like A1200, the camera can scan business cards and add data to contacts. An additional feature of the camera is that you can shoot a sign or text and then the mobile will translate it using on-board dictionary.
A1600 measures 98.9 x 53.5 x 19.6 mm and weighs 128g, whereas, A1800 is slighty bulkier than A1600 at 95.3 x 52.5 x 25 mm and 132g.
Via: GSMArena