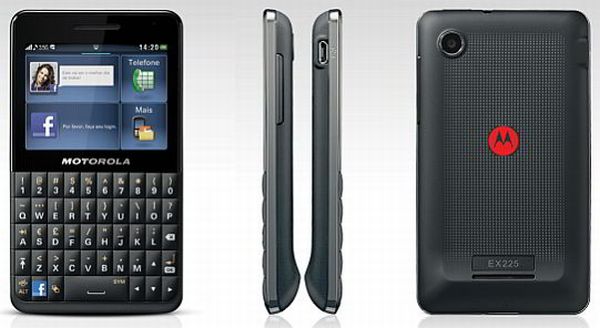 First look
When the whole world, especially the younger generation, is so much into FBying the whole time, how can the hand-held device manufactures be left behind? Post HTC ChaCha and Vodaphone 555 Blue, it's Motorola's turn to make Facebook a push away! The company has introduced a brand new smart phone, MotoKey Social EX 225, especially for the Facebook freaks. Besides having the salient features of a general phone, it comes prepared with touchscreen and physical QWERTY keyboard including the little-blue Facebook button that lets you broadcast your thoughts and content on Facebook with the push of a button.
What's new?
MotoKey Social EX 225 is the initial Facebook offering from Motorola. The phone is not very standalone if compared with the unique features of other already existing brands, especially HTC Chacha. But the phone surely has its own vibes and appeal in different ways. The design is thoughtfully compact and simple with dedicated buttons meant for particular tasks. The integration of touch screen and full QWERTY keyboard makes the navigation and text messaging seemingly easy.
What's been refreshed?
Compared with other Facebook-dedicated phones available in the market, MotoKey Social EX 225 doesn't promise anything surprisingly new or unique (as of now). However, we can expect it may meet with a facelift in the future, based on the response and feedback of end users.
Features walkthrough:
Find below its essential features and product specification
1. General: TFT Touchscreen, QWERTY keyboard, GSM: 850/900/1800/1900, Weight: 87 gms, Display size: 2.4 inches.
2. Camera: 3MP with fixed focus and digital zoom
3. Music and Video: Media player, FM Radio
4. Power: Usage time upto 480 min, Standby time upto 672 hrs
5. Connectivity and Data: Internet Browser WAP 2.0/xHTML, Web access, Bluetooth, MicroUSB v2.0 with HS, Wi-Fi 802.11 b/g
6. Productivity tools, software and memory: Calculator, alarm clock, 64MB RAM x 128MB ROM, 50MB storage
What's good?
MotoKey Social EX 225 is power packed with complete Facebook offerings. With just a push of a button on the downward side of the keypad hardware where the Facebook dedicated key is placed, you can access your account, update your status, share your media content and stay in touch with friends on the move. The phone, besides being a Facebook gateway, also works pretty much better as a usual high-end phone. All the essential features of a daily use phone have been included in it for better performance and ease of use. The design is appealing plus the fusion of QWERTY and capacitive touchscreen makes things even better. The social networking features lets you go beyond Facebook. The smart phone's fast Wi-fi helps you quickly connect to other popular social platforms like Twitter, Youtube etc.
What's not so good?
When the market is already stuffed with Facebook-dedicated phones, Motorola does the same thing again, which other players have been doing so far. The phone is expected to be within the budget (which is good), but it may not be outwardly cheap (which somehow holds back the aspirations). It may initially appeal the hard-core Motorola lovers, who love and live Facebook.
Industry buzz
The phone was in limelight before having the official launch. There were thoughtful speculations as to how the phone would look like and how it could be different from existing phones. After it is officially put on the company's site, a good number of articles and other types of media content have been released, penned by mobile phone critics and industry experts. As of now, there has been mixed responses about the phone. According to some, the phone stands better with improved features for complete social networking, while some believe the phone has not set any trend and provides the same solutions that are already in practice.
Price and availability
The information about the price and availability is not fully confirmed and official yet, but to go by the speculation, the smart phone may cost anything around $ 150.
Wrap-up
Considering the initial look, features and offerings, it seems MotoKey Social EX 225 is a smart fusion of social networking and regular phone. The design, ease of use and combination of improved features make it handy and ideal for day to day use. The Motorola fans have a lot in it to love, right from the sleek and simple design to the package of smart features. It will, however, take some time to know how rest of the folk treats the smart phone. But one thing is clear; it will surely advance the competition in Facebook-friendly phone market.