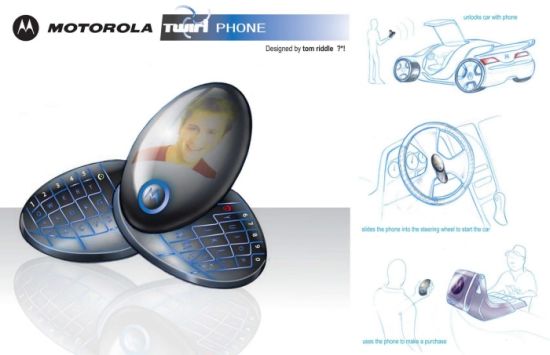 Designer: Tom Riddle
Cellphone designs are getting intricate by the day. Tom Riddle has proved it again with his latest concept 'Motorola Twirl' that seems an inspiration driven from the Solio Solar Charger. More or less, both the devices look alike; keypad is a nice replacement to the solar panels that differentiates the handheld device from the solar charger. Multi-functionality is one of the most lucrative traits of concept phones that keeps us all drooling; likewise, Motorola Twirl, with three leaves tied together at an end, making them slide smoothly over each-other on an axis, can be put to different uses like a mobile wallet, car key, and car starter when being tied to the steering wheel. Moreover, the concept phone can also be used as a gaming-controller so that you don't feel bored when your Wii-mote is broken down.
What's innovative: Elegant, ergonomic design, multi-functionality.
Via: Concept-phones