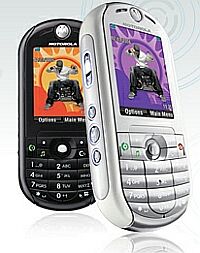 Motorola has introduced the ROKR E2 without creating any hype. The reason might be the ROKR E1 that couldn't meet the standards of a music phone last year. This time, Motorola is promoting the ROKR E2 as the music phone to power up your mobile entertainment.
Unlike the ROKR E1, the new ROKR E2 features an MP3 player instead of iTunes. Well, I don't know what the guys at Motorola thought about it, I can simply take it as a good as well as a bad move. I doubt it will meet the standards either of Motorola or of Apple.
The ROKR E2 is compliant with Linux and features Transflash slot for memory expansion, 1.3-megapixel camera, FM radio and a 3.5 mm port to connect to your headphones.
There is no news about the pricing and availability of the new Motorola ROKR E2. It could probabily hit Malaysian stores first of all.