Always been known for making slim mobiles with flap, Motorola has made another addition, by including EX212 to their flip cover phones' lineup. This handset has a very attractive price tag along with sharp and cool looks. Flip phones have always been Motorola's territory and they have made some iconic designs of their time. Along with the looks, phone has a lot of handy features. The phone is available is various colors rather than the conventional colors. It has a 2.4 inch QVGA display and the phone supports two SIM cards at the same time. The phone also has a basic 2 megapixel camera.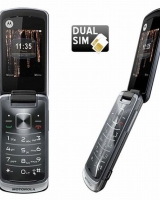 Performance
The phone receives very good signals and the call is loud and clear even on crowded streets. The phone has a 750 mAh battery which is not a great backup. This battery would provide you only 375 minutes of talk time and 625 hours of standby. The phone gives an access to your mails to using POP3 and IMAP. The looks are the best part of the phone and the build quality looks decent too. The keypad is a little downer since it is sometimes pretty hard to use. The battery is not great either. It only provides a talk time of 375 hours.
Features
The phone works on GSM networks with dual SIM support. It has a very attractive design and is 13.9 mm thin. Along with the 2.4-inch QVGA TFT display (240×320) the phone also has a regular 2 megapixel camera with digital zoom and video recording with 15 fps. It also has a FM radio with RDS for receiving signals. You can use any of your headsets with the help of 3.5 mm jack. The phone has connectivity solutions like Bluetooth and USB 2.0 via micro USB cable. EX212 supports EDGE and GPRS for your internet needs, obviously the data rates with this is not up to today's standards but it does the job. Internal 5MB space in the phone lets you store your contacts and messages. A choice from wide color range gives you the opportunity to find phone in your favorite color.
Design
The design of the phone will remind you of Motorazr considering the fact that it is only 13.9 mm thick. The phone is sleek, stylish and slips easily into your pocket. The phone has the dimensions of 106 x 53 x 13.9 mm and weighs 109 grams. The 2.0 megapixel camera lets you capture images with digital zoom. It has a very good audio player and the phone supports MP3, MID and WAV audio formats. The memory can be expanded up to 16GB via microSD cards. The keypad is very similar to the one found in motorazr and to be honest it is sometimes tricky to use this keypad. The keypad is flat and has very thin division between vertical rows this makes it hard to click sometimes.
Bottomline
If we look at the price, the stylish design and build quality the phone is a good deal. There are not so many good flip phones available right now. Plus this phone supports dual SIM standby at the same time which is pretty much the trend with the budget phones right now. The phone has a music player, FM radio with RDS, expansion slot and a 2MP camera for your multimedia needs. It also supports GPRS and EDGE. You have a wide choice of colors with this stylish phone. So if looks are your game go check this cellphone out.