While companies like Samsung and HTC battle it out in the Android playground, the low budget phone and the JAVA OS somewhat lie forgotten. Recently, however, Sony Ericsson and Motorola have taken initiatives to revive that particular category. Branded phones rarely have dual sim support, and even lesser branded phones have dual sim support and are cheap as well. That's why companies like Micromax and Spice almost single handedly sweep that segment of the market. Motorola's EX115 is the company's first foray and challenge to these companies in the cheap dual SIM phone category. The EX115 was launched alongside the EX128 and is a QWERTY phone with an extremely user friendly Java OS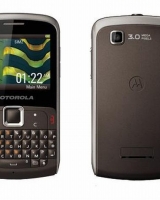 Performance
The EX115 is no android device. The Java powered phone does justice to the phone by performing top notch. Call quality and signal reception is excellent and texting is sheer delight. The web browser supports WAP 2.0 and xHTML and on EDGE loads web pages quite fast. In addition the phone also has services for email and IM for social networking. It is excellent as an actual phone. The battery could have been of a higher ampere, as the 930 mAh is still less. Still it ensures a talk time of 3h 30 m and a standby time of 250 h. The music playback is great as well.
Features
Presently, the Motorola EX115 is only available in Ultra White and Smoky Grey color variants and both are designed stylishly, appealing to the younger generation. The two SIM slots support two GSM sims and offer dual standby. The display is landscape with 2.3" of area and a resolution of 320X240pixels and 56k colors giving vibrant display. The EX115 also comes with a 3.2MP fixed focus camera that clicks decent quality images. Video recording quality is passable. The media capabilities of this phone are decent as well with a media player that supports all popular codecs, stereo FM with RDS and a 3.5mm jack. The web browser has WAP 2.0 and xHTML support and loads decently fast on both GPRS and EDGE. The battery is 930 mAh and gives a talk time of 3 hours 30 minutes and a standby of up to 10 days.
Design
The EX115 is cheap yet it still does not compromise on build quality. Motorola has probably outdone itself in this category. The QWERTY keypad has well placed and spaced keys that are comfortable to the touch and makes typing a breeze. The Motorola EX115 measures up at 61x109x12.35 mm and weighs in at 102.2 gms: not sleek or light, but then again, it does not feel cumbersome either. Motorola decided to ignore the conventional black color and decided to launch the phone in Smoky Grey and Ultra White: both colors look quite appealing and vibrant and are a welcome change. At such a low price, one cannot expect a touchscreen, but the 2.3" screen performs admirably well. The 56K 320X240 pixel at 174 ppi (which is actually higher than Samsung's touchscreen ppi) resolution screen gives clear display and has good viewing angles. The phone looks reminiscent of Blackberrys and has smooth curved edges. All in all, an excellent design and built with good quality plastic.
Bottomline
The Motorola EX 115 is a jack of all trades. It does not excel in any one field but performs considerably well in most arenas. At a little over Rs. 5000, the phone has everything that makes for a good handset except Android which is a bit of a letdown but not something drastic. This is a great 'first phone' but the absence of 3G and WiFi is again a letdown. But, if you are looking for a simple QWERTY phone that performs great then the EX 115 is your cup of tea.